B In The Mix: The Remixes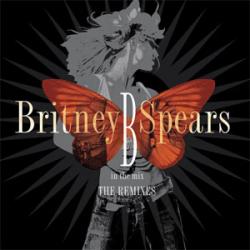 Le 1er album de remixes de Britney...
Il est sorti le 22 novembre 2005.
Single extrait de l'album:
Le 28 Septembre 2005, Jive Records annonçait par le biais d'un communiqué de presse la sortie d'un album de remixes, intitulé Remixed. Toutefois, le 8 novembre 2005, il était reporté par une source de MTV que l'album s'intitulerait B In The Mix: The Remixes. L'opus comprend des chansons des albums précédents de Britney, remixées par plusieurs DJ comme Stuart Price, Dave Audé ou encore Junkie XL. L'album inclut aussi une nouvelle chanson, And Then We Kiss. La chanson devait auparavant être incluse en septembre sur un disque bonus du DVD Britney & Kevin: Chaotic paru plus tôt en 2005, mais a été écartée pour des raisons inconnues. Les autres chansons retravaillées sur cet opus sont pour la plupart extraites de l'album In The Zone.
Malgré le manque de promotion, l'album s'est écoulé à 1 million d'exemplaires au niveau mondial, dont 131 000 exemplaires aux États-Unis, ce qui le classe 9e des albums de remixes les plus vendus au monde.
Petite histoire perso:
Aimant beaucoup le travail des remixeurs sur les chansons de Britney, je ne pouvais qu'être content d'avoir un album de remixes. J'ai été déçu car la plupart des remixes ne m'étaient pas inconnus car ils étaient présents sur d'autres supports que j'avais déjà. Seuls quelques morceaux étaient nouveaux comme les remixes de Touch Of My Hand ou Early Mornin'. Ces deux remixes sont d'ailleurs les morceaux que je préfère de l'album. Le titre inédit est quant à lui réussi. Il est dansant mais en même temps calme...
Bref, B In The Mix: The Remixes est un bon album de remixes qui manque un peu de nouveauté. Mais bon, Britney était dans ses layettes. On ne va pas la blâmer. Elle remixait elle-même ses titres pour endormir son petit bout...
Ma collection:
J'ai à ce jour 13 références pour cet album de remixes.
Photo
Édition
Tracklist
CD
828767488820
1. Toxic [Peter Rauhofer Reconstruction Mix] [Edit]
2. Me Against The Music [Featuring Madonna] [JUSTICE Remix]
3. Touch Of My Hand [Bill Hamel Remix]
4. Breathe On Me [Jacques Lu Cont's Thin White Duke Mix]
5. I'm A Slave 4 U [Dave Audé Slave Driver Mix]
6. And Then We Kiss [Junkie XL Remix]
7. Everytime [Valentin Remix]
8. Early Mornin' [Jason Nevins Remix]
9. Someday (I Will Understand) [Hi-Bias Signature Radio Remix]
10. ...Baby One More Time [Davidson Ospina 2005 Remix]
11. Don't Let Me Be The Last To Know
[Hex Hector Club Mix] [Edit]
CD
828767621722
1. Toxic [Peter Rauhofer Reconstruction Mix] [Edit]
2. Me Against The Music [Featuring Madonna] [JUSTICE Remix]
3. Touch Of My Hand [Bill Hamel Remix]
4. Breathe On Me [Jacques Lu Cont's Thin White Duke Mix]
5. I'm A Slave 4 U [Dave Audé Slave Driver Mix]
6. And Then We Kiss [Junkie XL Remix]
7. Everytime [Valentin Remix]
8. Early Mornin' [Jason Nevins Remix]
9. Someday (I Will Understand) [Hi-Bias Signature Radio Remix]
10. ...Baby One More Time [Davidson Ospina 2005 Remix]
11. Don't Let Me Be The Last To Know
​[Hex Hector Club Mix] [Edit]
12. Stronger [Mac Quayle Mixshow Edit]
13. I'm Not A Girl, Not Yet A Woman [Metro Mix]
CD
828767680521
1. Toxic [Peter Rauhofer Reconstruction Mix] [Edit]
2. Me Against The Music [Featuring Madonna] [JUSTICE Remix]
3. Touch Of My Hand [Bill Hamel Remix]
4. Breathe On Me [Jacques Lu Cont's Thin White Duke Mix]
5. I'm A Slave 4 U [Dave Audé Slave Driver Mix]
6. And Then We Kiss [Junkie XL Remix]
7. Everytime [Valentin Remix]
8. Early Mornin' [Jason Nevins Remix]
9. Someday (I Will Understand) [Hi-Bias Signature Radio Remix]
10. ...Baby One More Time [Davidson Ospina 2005 Remix]
11. Don't Let Me Be The Last To Know
[Hex Hector Club Mix] [Edit]
CD
828767406220
1. Toxic [Peter Rauhofer Reconstruction Mix] [Edit]
2. Me Against The Music [Featuring Madonna] [JUSTICE Remix]
3. Touch Of My Hand [Bill Hamel Remix]
4. Breathe On Me [Jacques Lu Cont's Thin White Duke Mix]
5. I'm A Slave 4 U [Dave Audé Slave Driver Mix]
6. And Then We Kiss [Junkie XL Remix]
7. Everytime [Valentin Remix]
8. Early Mornin' [Jason Nevins Remix]
9. Someday (I Will Understand) [Hi-Bias Signature Radio Remix]
10. ...Baby One More Time [Davidson Ospina 2005 Remix]
11. Don't Let Me Be The Last To Know
[Hex Hector Club Mix] [Edit]
CD
828767406220
1. Toxic [Peter Rauhofer Reconstruction Mix] [Edit]
2. Me Against The Music [Featuring Madonna] [JUSTICE Remix]
3. Touch Of My Hand [Bill Hamel Remix]
4. Breathe On Me [Jacques Lu Cont's Thin White Duke Mix]
5. I'm A Slave 4 U [Dave Audé Slave Driver Mix]
6. And Then We Kiss [Junkie XL Remix]
7. Everytime [Valentin Remix]
8. Early Mornin' [Jason Nevins Remix]
9. Someday (I Will Understand) [Hi-Bias Signature Radio Remix]
10. ...Baby One More Time [Davidson Ospina 2005 Remix]
11. Don't Let Me Be The Last To Know
[Hex Hector Club Mix] [Edit]
CD
Édition slipcase
886973282427
1. Toxic [Peter Rauhofer Reconstruction Mix] [Edit]
2. Me Against The Music [Featuring Madonna] [JUSTICE Remix]
3. Touch Of My Hand [Bill Hamel Remix]
4. Breathe On Me [Jacques Lu Cont's Thin White Duke Mix]
5. I'm A Slave 4 U [Dave Audé Slave Driver Mix]
6. And Then We Kiss [Junkie XL Remix]
7. Everytime [Valentin Remix]
8. Early Mornin' [Jason Nevins Remix]
9. Someday (I Will Understand) [Hi-Bias Signature Radio Remix]
10. ...Baby One More Time [Davidson Ospina 2005 Remix]
11. Don't Let Me Be The Last To Know
[Hex Hector Club Mix] [Edit]
CD
Édition promotionnelle
828767406220
1. Toxic [Peter Rauhofer Reconstruction Mix] [Edit]
2. Me Against The Music [Featuring Madonna] [JUSTICE Remix]
3. Touch Of My Hand [Bill Hamel Remix]
4. Breathe On Me [Jacques Lu Cont's Thin White Duke Mix]
5. I'm A Slave 4 U [Dave Audé Slave Driver Mix]
6. And Then We Kiss [Junkie XL Remix]
7. Everytime [Valentin Remix]
8. Early Mornin' [Jason Nevins Remix]
9. Someday (I Will Understand) [Hi-Bias Signature Radio Remix]
10. ...Baby One More Time [Davidson Ospina 2005 Remix]
11. Don't Let Me Be The Last To Know
[Hex Hector Club Mix] [Edit]
Vinyle 33 tours
promotionnel
Key Cuts From REMIXED
JDAB-74807-1

Side A
1. Touch Of My Hand [Bill Hamel 12'' Remix]
2. Me Against The Music Featuring Madonna [JUSTICE Remix]

Side B
1. Toxic [Peter Rauhofer Reconstruction Mix] [Edit]
2. Breathe On Me [Jacques Lu Cont's Thin White Duke Mix]

CD
828767488820
1. Toxic [Peter Rauhofer Reconstruction Mix] [Edit]
2. Me Against The Music [Featuring Madonna] [JUSTICE Remix]
3. Touch Of My Hand [Bill Hamel Remix]
4. Breathe On Me [Jacques Lu Cont's Thin White Duke Mix]
5. I'm A Slave 4 U [Dave Audé Slave Driver Mix]
6. And Then We Kiss [Junkie XL Remix]
7. Everytime [Valentin Remix]
8. Early Mornin' [Jason Nevins Remix]
9. Someday (I Will Understand) [Hi-Bias Signature Radio Remix]
10. ...Baby One More Time [Davidson Ospina 2005 Remix]
11. Don't Let Me Be The Last To Know
[Hex Hector Club Mix] [Edit]
CD
828767488820
1. Toxic [Peter Rauhofer Reconstruction Mix] [Edit]
2. Me Against The Music [Featuring Madonna] [JUSTICE Remix]
3. Touch Of My Hand [Bill Hamel Remix]
4. Breathe On Me [Jacques Lu Cont's Thin White Duke Mix]
5. I'm A Slave 4 U [Dave Audé Slave Driver Mix]
6. And Then We Kiss [Junkie XL Remix]
7. Everytime [Valentin Remix]
8. Early Mornin' [Jason Nevins Remix]
9. Someday (I Will Understand) [Hi-Bias Signature Radio Remix]
10. ...Baby One More Time [Davidson Ospina 2005 Remix]
11. Don't Let Me Be The Last To Know
[Hex Hector Club Mix] [Edit]
CD
4988017636787
BVCQ-21059

1. Toxic [Peter Rauhofer Reconstruction Mix] [Edit]
2. Me Against The Music [Featuring Madonna] [JUSTICE Remix]
3. Touch Of My Hand [Bill Hamel Remix]
4. Breathe On Me [Jacques Lu Cont's Thin White Duke Mix]
5. I'm A Slave 4 U [Dave Audé Slave Driver Mix]
6. And Then We Kiss [Junkie XL Remix]
7. Everytime [Valentin Remix]
8. Early Mornin' [Jason Nevins Remix]
9. Someday (I Will Understand) [Hi-Bias Signature Radio Remix]
10. ...Baby One More Time [Davidson Ospina 2005 Remix]
11. Don't Let Me Be The Last To Know
[Hex Hector Club Mix] [Edit]
12. Stronger [Mac Quayle Mixshow Edit]
13. I'm Not A Girl, Not Yet A Woman [Metro Mix]
14. Someday (I Will Understand) [Gota Re-Mix Feat. MCU]

Bonus:
Sticker promotionnel
Paroles des chansons

CD
828767488820

1. Toxic [Peter Rauhofer Reconstruction Mix] [Edit]
2. Me Against The Music [Featuring Madonna] [JUSTICE Remix]
3. Touch Of My Hand [Bill Hamel Remix]
4. Breathe On Me [Jacques Lu Cont's Thin White Duke Mix]
5. I'm A Slave 4 U [Dave Audé Slave Driver Mix]
6. And Then We Kiss [Junkie XL Remix]
7. Everytime [Valentin Remix]
8. Early Mornin' [Jason Nevins Remix]
9. Someday (I Will Understand) [Hi-Bias Signature Radio Remix]
10. ...Baby One More Time [Davidson Ospina 2005 Remix]
11. Don't Let Me Be The Last To Know
[Hex Hector Club Mix] [Edit]

Bonus:
Paroles des chansons

CD
828767488820

1. Toxic [Peter Rauhofer Reconstruction Mix] [Edit]
2. Me Against The Music [Featuring Madonna] [JUSTICE Remix]
3. Touch Of My Hand [Bill Hamel Remix]
4. Breathe On Me [Jacques Lu Cont's Thin White Duke Mix]
5. I'm A Slave 4 U [Dave Audé Slave Driver Mix]
6. And Then We Kiss [Junkie XL Remix]
7. Everytime [Valentin Remix]
8. Early Mornin' [Jason Nevins Remix]
9. Someday (I Will Understand) [Hi-Bias Signature Radio Remix]
10. ...Baby One More Time [Davidson Ospina 2005 Remix]
11. Don't Let Me Be The Last To Know
[Hex Hector Club Mix] [Edit]
Ajouter un commentaire