Don't Let Me Be The Last To Know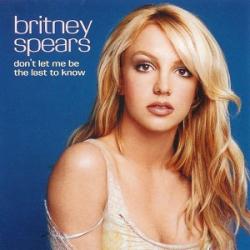 Le 4e extrait de l'album Oops!... I Did It Again, sorti le 16 mai 2000.
Le titre est sorti le 17 janvier 2001.
Petite histoire du titre:
Cette balade a été écrite par Shania Twain, célèbre chanteuse country, et son mari de l'époque, Robert 'Mutt' Lange. Produite par ce dernier, elle a été enregistrée en Suisse. Elle nous fait entendre la voix de Britney sous une autre dimension, plus grave et plus mûre. Malheureusement, cette chanson ne rencontrera pas un franc succès au niveau international.
Petite histoire du clip:
Réalisé par le regretté Herb Ritts, le clip de Don't Let Me Be The Last To Know montre une Britney légèrement vétue, batifolant avec son petit copain dans un décor paradisiaque. À l'époque, le clip est jugé trop sexy, voire semi-pornographique. La mère de Britney a même revu le montage de la vidéo pour y ôter des scènes qui, selon elle, étaient trop choquantes. Ceci n'était qu'un prélude à ce qui allait arriver six mois plus tard.
Petite anecdote: le monsieur bodybuildé qui joue le petit copain de Britney est Brice Durand, un mannequin français...
Petite histoire perso:
La chanson est totalement différente de ce que Britney avait pu nous offrir auparavant. Elle nous offre une voix grave et loin des petites notes fluettes des autres morceaux. C'est une bonne balade qui montrait déjà à cette époque que Britney voulait se détacher du style pop sucrée pour se diriger vers un style plus mature.
Ma collection:
J'ai à ce jour 12 références pour ce single.
Photo
Édition
Tracklist
CD single avec sticker
638592519329
9251932
1. Don't Let Me Be The Last To Know [Album Version]
2. Don't Let Me Be The Last To Know
[Hex Hector Radio Mix]
3. Stronger [MacQuayle Mix Show Edit]
CD single
638592519329
9251932
1. Don't Let Me Be The Last To Know [Album Version]
2. Don't Let Me Be The Last To Know
[Hex Hector Radio Mix]
3. Stronger [MacQuayle Mix Show Edit]
CD promotionnel
9251842P

1. Don't Let Me Be The Last To Know [Album Version]

CD single
638592518490
9251849
1. Don't Let Me Be The Last To Know [Album Version]
2. Don't Let Me Be The Last To Know
[Hex Hector Radio Mix]
Maxi single
638592518421
9251842
1. Don't Let Me Be The Last To Know [Album Version]
2. Don't Let Me Be The Last To Know
[Hex Hector Radio Mix]
3. Don't Let Me Be The Last To Know
Hex Hector Club Mix]
4. Stronger [MacQuayle Mix Show Edit]
5. Stronger [Pablo La Rosa's Tranceformation]
Maxi single
638592519824
9251982

1. Don't Let Me Be The Last To Know [Album Version]


2. Don't Let Me Be The Last To Know
[Hex Hector Radio Mix]
3. Don't Let Me Be The Last To Know
[Hex Hector Club Mix]

Maxi single


Enhanced CD Limited Edition
638592520325
9252032

1. Don't Let Me Be The Last To Know [Album Version]
2. Oops!... I Did It Again
[Riprock 'N' Alex G. Oops! We Remixed Again!] [Radio Mix]
3. Stronger [MacQuayle Mix Show Edit]

Bonus:
Vidéo de la chanson
Paroles de la chanson

Cassette audio
638592519843
9251984

Side A
1. Don't Let Me Be The Last To Know [Album Version]
2. Don't Let Me Be The Last To Know
[Hex Hector Radio Mix]
3. Don't Let Me Be The Last To Know
[Hex Hector Club Mix]

Side B
1. Don't Let Me Be The Last To Know [Album Version]
2. Don't Let Me Be The Last To Know
[Hex Hector Radio Mix]
3. Don't Let Me Be The Last To Know
[Hex Hector Club Mix]

Vinyle 33 tours promotionnel
925198.0 P

Side A
1. Don't Let Me Be The Last To Know
[Hex Hector Club Mix]
2. Don't Let Me Be The Last To Know
[Thunderpuss Radio Mix]

Side B
1. Stronger [MacQuayle Mix Show Edit]
2. Don't Let Me Be The Last To Know [Album Version]

JDJ-42879-2
CD promotionnel

1. Album Version
2. Call Out Research Hook
Vinyle 33 tours promotionnel
DUTCH-29

Side A
1. Hex Hector Club Mix
2. Hex Hector Radio Mix

Side B
1. Thunderpuss Club Mix
2. Thunderpuss Radio Mix

Maxi single
4544180300056
ZJCI-30005

1. Don't Let Me Be The Last To Know [Album Version]
2. Don't Let Me Be The Last To Know
[Hex Hector Radio Mix]
3. Don't Let Me Be The Last To Know
[Hex Hector Club Mix]
4. Lucky [Jack D. Elliot Radio Mix]
5. Stronger [Miguel Migs Vocal Edit]
6. Oops!... I Did It Again [Ospina's Deep Edit]
7. Oops!... I Did It Again [Instrumental]

Bonus:
Un livret avec des photos de
certains photoshoots par Patrick DeMarchelier
Ajouter un commentaire