Me Against The Music Featuring Madonna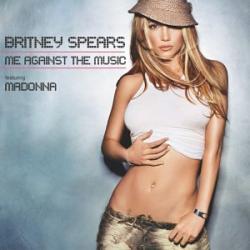 Le 1er extrait de l'album In The Zone, sorti le 17 novembre 2003.
Il est sorti le 30 octobre 2003.
Petite histoire du titre:
Après le concert annulé du Dream Within A Dream Tour à Mexico fin juillet 2002, Britney avait décidé de prendre 6 mois de repos. Peu de temps après, le break était déjà fini et Britney était déjà de retour dans les studios d'enregistrement pour son quatrième opus. Elle a ainsi travaillé avec divers producteurs. Sur cette chanson, elle a collaboré avec Christopher 'Tricky' Stewart et Penelope Magnet du collectif RedZone Entertainment. Ce titre n'était pas censé être un single. Outrageous était en effet préssenti pour être le premier extrait de l'album. Il en est allé autrement lorsque Britney l'a proposé à Madonna lors des répétitions des MTV Video Music Awards de 2003. La reine de la pop a ajouté des paroles sur la chanson telle que nous la connaissons. Le titre est empreint de rythmes hip-hop et dance-pop.
Petite histoire du clip:
Réalisé par Paul Hunter, le clip est une sorte de course-poursuite entre Britney et Madonna. Il se déroule dans un nightclub New-Yorkais. Les deux protagonistes ne se croisent pas mais peuvent se sentir (la scène du mur). C'est lors du bridge de la chanson que Britney et Madonna se retrouvent ensemble, sur la structure d'un lit. Elles se livrent alors à une chorgéraphie des plus suggestives. À la fin du clip, Britney arrive enfin à atttraper Madonna pour lui donner un baiser mais cette dernière disparait. Le clin d'oeil au fameux french kiss lors de la prestation des MTV Video Music Awards de 2003 n'est pas du tout fortuit.
Petite histoire perso:
Ce titre est très dansant. Il mélange plusieurs styles musicaux pour en faire un mix détonnant. Même si ce n'est pas le meilleur de Britney, il reste un bon tube de club. De plus, certains remixes, officiels et non-officiels rendent ce titre encore meilleur. Le clip est lui très réussi. Ce jeu du chat et de la souris dans lequel c'est Britney qui poursuit Madonna et non l'inverse nous fait demander si Britney ne veut pas "prendre" la place de Madonna.
Ma collection:
J'ai à ce jour 18 références pour ce single.
Photo
Édtion
Tracklist
CD promotionnel

1. Me Against The Music Featuring Madonna

CD single
828765712729
1. Video Mix
2. Rishi Rich's Desi Kulcha Remix
Maxi single
828765712620
1. Video Mix
2. Rishi Rich's Desi Kulcha Remix
3. Peter Rauhofer Radio Mix
4. The Mad Brit Mixshow
Maxi single promotionnel
828765711623
1. Video Mix
2. Rishi Rich's Desi Kulcha Remix
Maxi single
828765764322
1. Video Mix
2. Rishi Rich's Desi Kulcha Remix
3. Peter Rauhofer Radio Mix
4. The Mad Brit Mixshow
Cassette audio
828765764346

Side A
1. Video Mix
2. Rishi Rich's Desi Kulcha Remix
3. Peter Rauhofer Radio Mix
4. The Mad Brit Mixshow

Side B
1. Video Mix
2. Rishi Rich's Desi Kulcha Remix
3. Peter Rauhofer Radio Mix
4. The Mad Brit Mixshow

Vinyle 33 tours promotionnel
828765711616

Side A
1. Rishi Rich's Desi Kulcha Remix
2. Rishi Rich's Desi Kulcha Remix [Instrumental]

Side B
1. Video Mix
2. Video Mix [Instrumental]

Pock It!
828765812726

1. Me Against The Music [LP Version/Video Mix]
2. Me Against The Music [Rishi Rich's Desi Kulcha Remix]

Maxi single
Partie 1
0828765775526
1. Video Mix
2. Peter Rauhofer Radio Mix
3. The Mad Brit Mixshow
Maxi single
Partie 2
0828765775625

1. Rishi Rich's Desi Kulcha Remix
2. Passengerz Vs. The Club Mix
3. Terminalhead Vocal Mix
4. Video Mix Instrumental

Bonus:
Poster

CD promotionnel numéroté
CDX-2682 (0553)
1. Video Mix
2. Rishi Rich's Desi Kulcha Remix
3. Call-Out Research Hook #1
4. Call-Out Research Hook #2
CD promotionnel
JDJ-53701-2
1. Video Mix
2. Rishi Rich's Desi Kulcha Remix
3. Call-Out Research Hook #1
4. Call-Out Research Hook #2
CD REMIXES
828765821520
1. Video Mix
2. The Trak Starz Remix
3. Gabriel & Dresden Club Mix
4. Peter Rauhofer Radio Mix
5. The Mad Brit Mixshow
6. Bloodshy & Avant 'Dubbie Style' Remix
7. Kanye West Remix
Vinyle 33 tours
828765730419

Side A
1. Rishi Rich's Desi Kulcha Remix
2. Rishi Rich's Desi Kulcha Remix [Instrumental]

Side B
1. Video Mix
2. Video Mix [Instrumental]

Vinyle 33 tours promotionnel
JDAB-57305-1

Side A
1. Rishi Rich's Desi Kulcha Remix
2. Rishi Rich's Desi Kulcha Remix [Instrumental]

Side B
1. Video Mix
2. Video Mix [Instrumental]

Double vinyle 33 tours
REMIXES
8287765775717

Side A
1. Peter Rauhofer's Electrohouse Mix
2. The Mad Brit Mixshow

Side B
1. Gabriel & Dresden Club Mix
2. Rishi Rich's Punjabi Club Mix

Side C
1. Peter Rauhofer's Electrohouse Dub
2. Passengerz Vs. The Club Mix

Side D
1. Gabriel & Dresden Dub
2. Terminalhead Vocal Mix

CD single
828765809924
1. Video Mix
2. Peter Rauhofer Radio Mix
3. The Mad Brit Mixshow
Maxi single
4988017617892
BVCQ-29601

1. Video Mix
2. Rishi Rich's Desi Kulcha Remix
3. Peter Rauhofer Radio Mix
4. The Mad Brit Mixshow

Bonus:
Paroles de la chanson
Ajouter un commentaire