Till The World Ends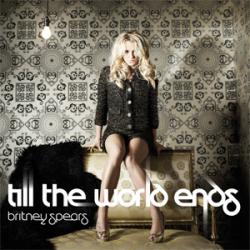 Till The World Ends est le deuxième single extrait de l'album Femme Fatale, sorti le 25 mars 2011.
Le titre a été lançé le 4 mars 2011.
Petite histoire du titre:
Écrit par Lukasz Gottwald, Max Martin, Alexander Kronlund et la chanteuse Kesha Sebert, ce titre est produit par Dr. Luke, Max Martin et Billboard. Le morceau est électropop et eurodance. Britney y sussure et respire ses paroles, sa marque de fabrique. Ke$ha voulait écrire sur Britney en tant que performer qui traverse le globe avec sa tournée et se sent tellement bien sur scène qu'elle veut danser jusqu'à la fin du monde. Plusieurs remixes officiels sont apparus. Le plus notable est The Femme Fatale Remix Featuring Nicki Minaj & Ke$ha, qui sonne plus dubstep. On retiendra aussi le Culture Shock Remix, aux sonorités Bollywood.
La chanson a été acclamée par les critiques, certains de ces derniers considérant le morceau comme étant le meilleur de l'album et un tube taillé pour les clubs. Le titre s'est bien classé dans le monde, notamment avec la sortie du remix avec Nicki Minaj et Ke$ha, qui a permis à Till The World Ends de se classer 3e du Billboard Hot 100. En France, le titre est montré à la 8e place, la meilleure entrée de Britney dans l'Hexagone depuis Womanizer.
Petite histoire du clip:
Réalisé par Ray Kay, le clip colle au mot près au titre. On voit une fête se dérouler dans les égouts alors que le monde s'écroule sous les météorites. L'imagerie de cette vidéo rappelle celle du clip I'm A Slave 4 U, tourné dix ans plus tôt. Vers la fin de la chanson, le soleil refait son apparition et on peut voir Britney sortir la tête de l'égout, le sourire aux lèvres. Une version éditée (renommée Till The World Ends - Dance Version), a fait son apparition et montre plus de plans de danse, pour laisser le côté apocalyptique du clip de côté.
Le clip a reçu des avis positifs de la part des critiques. Les comparaisons avec I'm A Slave 4 U sont élogieuses et les critiques se sont félicités de voir que le clip ne contient pas de placement de produits. Lors de la cérémonie des MTV Video Music Awards de 2011, Britney est repartie avec deux prix. Celui du "Michael Jackson Video Vanguard Award" pour l'ensemble de sa carrière et celui du meilleur clip pop pour Till The World Ends.
Petite histoire perso:
Entre vous et moi, j'aurais vraiment préféré voir ce titre sorti en premier single car il a plus de potentiel que Hold It Against Me. Il est plus dansant et les choeurs sont addictifs. On a envie d'appuyer sur Replay jusqu'à la fin du monde. Bon, je m'emporte un peu, mais je trouve que ce morceau est vraiment bon et peut rallier un public large. Le clip, cette sorte de Slave 2.0, est très bien réalisé et ajoute un côté dansant et joyeux à la fin du monde. Un de mes titres favoris de l'album Femme Fatale et incontestablement, un des meilleurs morceaux de la discographie de Britney.
Ma collection:
J'ai à ce jour 14 références pour ce single.
Photo
Édition
Tracklist
CD single
886979425125
1. Album Version
2. The Femme Fatale Remix
Featuring Nicki Minaj & Ke$ha
Maxi single
886979059221
1. Album Version
2. Instrumental Version
CD promotionnel
1 titre

1. Till The World Ends

CD promotionnel
...The Remixes
1. Till The World Ends
2. Till The World Ends
[Bloody Beatroots Extended Remix]
3. Till The World Ends [White Sea Extended Club Remix]
4. Till The World Ends [Kik Klap Radio Remix]
5. Till The World Ends [Alex Suarez Radio Remix]
6. Till The World Ends [Friscia And Lamboy Club Remix]
7. Till The World Ends [Varsity Team Radio Remix]
8. Till The World Ends
[Karmatronic Extended Club Remix]
Double CD promotionnel
...The Radio Remixes
...The Club Remixes

...The Radio Remixes
1. Alex Suarez Radio Remix
2. Varsity Team Radio Remix
3. Street Savi Ghettohouse Radio Remix
4. Karmatronic Radio Remix
5. DJ Kue Radio Remix
6. Kik Klap Radio Remix
7. Bloody Beatroots Radio Remix
8. Jump Smokers Radio Remix

...The Club Remixes
1. Friscia & Lamboy Club Remix
2. Friscia & Lamboy Mixshow
3. Alex Suarez Club Remix
4. Varsity Team Club Remix
5. Street Savi Ghettohouse Club Edit
6. Karmatronic Extended Club Remix
7. DJ Kue Club Remix
8. Kik Klap Club Remix
9. Jump Smokers Club Remix

CD promotionnel
The Femme Fatale Remix
Featuring Nicki Minaj & Ke$ha
1. Till The World Ends
[The Femme Fatale Remix
Featuring Nicki Minaj & Ke$ha]
CD promotionnel blanc
The Femme Fatale Remix
F. Nicki Minaj & Ke$ha
1. Till The World Ends
[The Femme Fatale Remix F. Nicki Minaj & Ke$ha]
DVD promotionnel

1. Till The World Ends [Clip]

DVD promotionnel
Dance Version

1. Till The World Ends - Dance Version [Clip]

Maxi single
Remix
9787888497571
0603517984129

1. Till The World Ends
2. Till The World Ends
[Bloody Beatroots Extended Remix]
3. Till The World Ends [White Sea Extended Club Remix]
4. Till The World Ends [Kik Klap Radio Remix]
5. Till The World Ends [Alex Suarez Radio Remix]
6. Till The World Ends [Friscia And Lamboy Club Remix]
7. Till The World Ends [Varsity Team Radio Remix]
8. Till The World Ends
[Karmatronic Extended Club Remix]

Bonus:
Paroles de la chanson

CD
...The Remixes
17 titres
9787888497795
88697973662
1. Till The World Ends
2. Till The World Ends [Liam Keegan Club Mix]
3. Till The World Ends [Liam Keegan Radio Mix]
4. Till The World Ends [Dark Intensity Remix]
5. Till The World Ends [Two Guyz Remix]
6. Till The World Ends [Official Radio Edit]
7. Till The World Ends
[Bloody Beatroots Extended Remix]
8. Till The World Ends [White Sea Extended Club Remix]
9. Till The World Ends [Kik Klap Radio Remix]
10. Till The World Ends [Alex Suarez Radio Remix]
11. Till The World Ends [Friscia And Lamboy Club Remix]
12. Till The World Ends [Varsity Team Radio Remix]
13. Till The World Ends
[Karmatronic Extended Club Remix]
14. Till The World Ends [Gareth Wyn Remix]
15. Till The World Ends
[Olli Collins And Fred Portelli Remix]
16. Till The World Ends [Billionaire Radio Remix]
17. Till The World Ends [Billionaire Extended Remix]
Maxi single
8803581118476
S10847C
88697905922
1. Album Version
2. Instrumental Version
CD promotionnel
1 titre
88697895392

1. Main

CD promotionnel
Club Remixes
886443010298
1. Bloody Beetroots Club Remix
2. White Sea Club Remix
3. Friscia & Lamboy Club Remix
4. Alex Suarez Club Remix
5. Varsity Team Club Remix
6. Street Savi Ghettohouse Club Edit
7. Karmatronic Extended Club Remix
8. DJ Kue Club Remix
9. Kik Klap Club Remix
10. Jump Smokers Club Remix
Ajouter un commentaire