I'm A Slave 4 U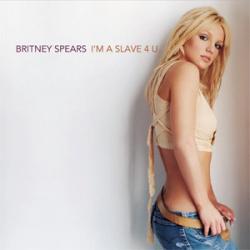 Le 1er extrait de l'album Britney, sorti le 6 novembre 2001.
Le titre est sorti le 24 septembre 2001.
Il contient en face B le titre Intimidated.
Petite histoire du titre:
Ce titre urbain a été écrit et produit par Chad Hugo et Pharrell Williams, du collectif The Neptunes. Il crée une révolution dans la musique de Britney. On est en effet très loin des ...Baby One More Time et autres Oops!... I Did It Again. Britney chante qu'elle est une esclave pour la musique en sussurant, en gémissant et ceci sur une musique lascive et langoureuse entre le hip-hop et la pop. C'est du hip-hop à la sauce Britney.
Petite histoire du clip:
Réalisé par Francis Lawrence (Circus), ce clip montre une Britney sexy à souhait, portant un string sur un jean et transpirant la sexualité... Si Don't Let Me Be The Last To Know nous montrait une Britney sensuelle, ce clip est un portrait de la Britney sexuelle qui va à partir de ce moment être omniprésente. Finies les jupettes et les couettes. Place aux tailles basses, aux soutien-gorges et aux positions assez suggestives... Britney a grandi artistiquement et les images du clip le montrent bien.
Petite histoire perso:
J'ai tout d'abord été choqué. Je ne m'attendais pas à un tel changement de musique et d'image. Passer d'une Britney 'innocente' à une Britney qui est esclave, ça a de quoi dérouter. Je me suis fait à ce changement, avec le clip notamment qui montrait que Britney pouvait facilement évoluer musicalement et qui ne restait pas dans le schéma blonde proprette pop... Un titre qui reste dans la tête longtemps....
Ma collection:
J'ai à ce jour 16 références pour ce single.
Photo
Édition
Tracklist
CD promotionnel
9252752P

1. Main Version

Bonus:
Informations concernant Britney
et ses ventes en France et dans le Monde

CD single
(sticker français)
638592527591
9252759
1. I'm A Slave 4 U [Album Version]
2. Intimidated
CD single
638592527591
9252759
1. I'm A Slave 4 U [Album Version]
2. Intimidated
Maxi single
638592528925
9252892
1. I'm A Slave 4 U [Album Version]
2. Intimidated
3. I'm A Slave 4 U [Instrumental]
CD promotionnel
9252752P

1. Main Version

Double vinyle 33 tours promotionnel
The Remixes
638592527508
9252750

Vinyl 1/Side A
1. Thunderpuss Club Mix
2. Thunderpuss Radio Mix

Vinyl 1/Side B
1. Miguel Migs Petalpusher Radio Edit
2. The Light Remix

Vinyl 2/Side A
1. Thunderpuss Dark Mix
2. Thunderpuss Tribapella

Vinyl 2/Side B
1. Miguel Migs Petalpusher Dub
2. Thunderpuss Dark Dub

Maxi single
628592527522
9252752D
1. I'm A Slave 4 U [Album Version]
2. Intimidated
3. I'm A Slave 4 U [Instrumental]
4. Britney... [Interview]
Vinyle 33 tours promotionnel
RTD 199.3258.0

Side A
1. The Light Remix
2. Thunderpuss Tribapella

Side B
1. Main Version
2. Miguel Mig's Petal Pusher Dub
3. Instrumental

CD promotionnel
1. Main
2. Instrumental
Cassette audio
638592528949
9252894

Side A
1. I'm A Slave 4 U [Album Version]
2. Intimidated
3. I'm A Slave 4 U [Instrumental]

Side B
1. I'm A Slave 4 U [Album Version]
2. Intimidated
3. I'm A Slave 4 U [Instrumental]

CD promotionnel
JDJ-42967-2
1. Main
2. Instrumental
Vinyle 33 tours
012414296719

Side A
1. Main Version

Side B
1. Instrumental

Vinyle 33 tours
The Remixes
012414298010

Side A
1. Thunderpuss Club Mix
2. Thunderpuss Radio Mix

Side B
1. Miguel Migs Petalpusher Radio Edit
2. The Light Remix

Maxi single
9326382003844
9252752
1. I'm A Slave 4 U [Album Version]
2. Intimidated
3. I'm A Slave 4 U [Instrumental]
4. Britney... [Interview]
CD promotionnel
Skechers

1. I'm A Slave 4 U [Thunderpuss Radio Mix]

Maxi single
4544180300094
ZJCI-30009

1. I'm A Slave 4 U [Main Version]
2. [Instrumental]
3. Intimidated

Bonus:
Paroles de la chanson
Ajouter un commentaire