Work B**ch!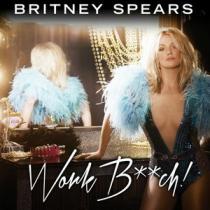 Le 1er extrait de l'album Britney Jean, paru le 29 novembre 2013.
Le titre est sorti le 16 septembre 2013.
Petite histoire du titre:
Ce titre électro a été co-écrit par will.i.am, Britney, Otto Jettman, Sebastian Ingrosso, Anthony Preston et Ruth-Anne Cunningham. Cette chanson a été produite par will.i.am et Anthony Preston. Le morceau surfe sur la vague de l'électro-house. Les basses sont mises en avant et les paroles sont quasi-parlées, à l'exception du break. Britney parle dans un anglais british, aussi utilisé dans le morceau Scream & Shout. Bien que crédité, Ingrosso a révélé qu'il n'avait pas participé à l'écriture du titre. Les paroles évoquent le fait de devoir travailler dur pour accéder à ses rêves, même les plus matériels. Une version éditée a vu le jour, évitant ainsi à l'auditeur d'entendre le mot 'bitch' répété à maintes reprises dans ce morceau. Le titre a reçu de très bonnes critiques de la part des professionnels de la musique. Il a pourtant réussi a diviser les fans de Britney. Si certains saluent le risque pris par la chanteuse, d'autres trouvent au contraire qu'elle s'adapte trop aux tendances et ne révolutionnent pas grand chose. Malgré un accueil chaleureux, le titre ne s'est hissé qu'à la 12e place du Billboard Hot 100 et à la 6e place des charts français.
Petite histoire du clip:
Réalisé par Ben Mor (Scream & Shout), ce clip a été tourné du 7 au 10 septembre 2013 à Malibu. La vidéo apporte plusieurs tableaux dans lesquels Britney joue de sa sensualité. Entre des scènes dans le désert, on peut ainsi voir la chanteuse accompagnée de plusieurs danseuses effectuer une chorégraphie dans un hôtel qui semble se trouver à Las Vegas. Par deux fois, on la voit manier le fouet. On retiendra aussi les plans où Britney se la joue dominatrice au milieu de mannequins (très) peu vêtus. Cette scène n'est pas sans rappeler la vidéo interlude Sweet Dreams tournée pour la tournée The Circus Starring Britney Spears en 2009. On voit ensuite Britney dans une robe rose au milieu d'une piscine où se baignent des requins-marteaux. Pour promouvoir sa série de concerts à Las Vegas, intitulée Britney: Piece Of Me, on peut voir un grand écran en arrière plan ainsi que le lieu des concerts, le célèbre Planet Hollywood. Cette vidéo a été encensée par la critique et le public. Tous se sont rejoints sur le fait que Britney a fait un retour aux sources et est plus sexy que jamais. Pour certains, cette vidéo est la meilleure depuis un certain nombre d'années.
Petite histoire perso:
Pour moi, cette chanson est un tube taillé pour les clubs et même s'il ne convient pas à tous les publics, il a le mérite de faire danser. Le son est vraiment bon, électro et dance, comme je les affectionne. Le refrain est répétitif mais il reste en mémoire longtemps... Quant au clip, je n'ai pas de mots assez forts pour le décrire. Je dirai juste qu'au premier visionnage, j'ai eu l'impression de voir une Britney sortie du clip My Prerogative, sorti en 2004. Bref, Work B**ch! ne révoltionne rien mais a le mérite d'être accompagné d'un clip qui réconcilie Britney avec la "vraie" danse.
Ma collection:
J'ai à ce jour 9 références pour ce single.
Photo
Édition
Tracklist
Maxi single
88430007529
1. Main Version
2. Instrumental Version
CD promotionnel
1. Work B**ch! [Clean Version]
2. Work B**ch! [Explicit Version]
3. Work B**ch! [Instrumental]
CD promotionnel
8 titres
1. Work B**ch! [Clean Version]
2. Work B**ch! [Craig Vanity Vs. Nom De Strip & Nezzo Edit]
3. Work B**ch! [Craig Vanity Vs. Nom De Strip & Nezzo Extended]
4. Work B**ch! [Shahaf Moran Trap Remix]
5. Work B**ch! [StopMe Worker Mix]
6. Work B**ch! [Craig Welsh Pop Bootleg Mix]
7. Work B**ch! [Dirty Pop Deconstruction Mix]
8. Work B**ch! [Matt Nevin Remix]
CD promotionnel
886444240253
1. Explicit
2. Clean
3. Instrumental
DVD promotionnel
886444262354

1. Music Video

DVD promotionnel

1. Work B**ch! [Uncensored]

Maxi single
9787888493650
886979931013

1. Work Bitch!Work B**ch!
2. Work B**ch! [Clean Version]
3. Work B**ch! [Instrumental]
4. Work B**ch! [Explicit]
5. Circus
6. Circus [Tom Neville's Ringleader Remix]
7. Circus [Diplo Circus Remix]
8. Circus [Junior Vasquez Club Circus]
9. Circus [Linus Loves Remix]
10. Circus [Villians Remix]
11. Circus [Twister Rave Remix]

Bonus:
Paroles des chansons

Maxi single
88430007529

1. Main Version
2. Instrumental Version

Bonus:
Paroles de la chanson
Poster

CD MP3
88843023802
1. Britney Spears - Work B**ch! [Explicit Version]
2. Steve Aoki/Chris Lake/Tujamo - Boneless
3. Vengaboys - Hot Hot Hot [Dance Radio Edit]
4. Alexandra Stan - Mr. Saxobeat [Radio Edit]
5. Chris Brown - Turn Up The Music
6. Usher Feat. Pitbull
DJ Got Us Fallin' In Love [Almighty Radio Mix]
7. Ke$ha - Tik Tok [Fred Falke Radio Mix]
8. Olly Murs - Dance With Me Tonight [Cagedbaby Remix]
9. Rita Ora - How We Do (Party) [Remix]
10. Becky G - Becky From The Block
11. Sak Noel - Paso (The Nini Anthem)
12. Justice Crew - Boom Boom [Explicit]
13. Karmin Shiff - Morosita
14. Serebro - Mi Mi Mi
15. Calvin Harris Feat. Ne-Yo - Let's Go
16. Krewella - Killin' It
17. Asap Rocky Feat. Skrillex & Birdy Nam Nam
Wild For The Night [Explicit]
18. Deekline & Ed Solo Feat. Splack Pack And Kidd Money
Shake The Pressure [Original Mylo Mash Up Radio Edit]
19. Bimbo Jones Feat. Ida Corr - See You Later
20. Matteo Feat. Stella - Push It
21. Sound Extra Feat. Looper - Dodgy Moves
22. Serebro - Mama Lover
23. House Republic - Nuggetz
24. Geo Da Silva/Saftik - Hey Mr. DJ Get Up!
Ajouter un commentaire