Pretty Girls [With Iggy Azalea]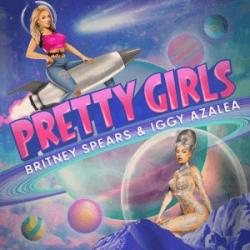 Ce titre est sorti le 4 mai 2015.
Petite histoire du titre:
Lors de la promotion européenne de sa ligne de sous-vêtements The Intimate Britney Spears en septembre 2014, Britney a révélé travailler doucement mais sûrement sur son nouvel album. La chanson avec Iggy Azalea a été confirmée par cette dernière en décembre 2014. Britney voulait travailler avec Iggy et des quelques morceaux enregistrés, Pretty Girls est sorti du lot.
Le titre, co-écrit par Iggy Azalea, Maegan Cottone, Perrie Edwards, Jesy Nelson, Leigh-Anne Pinnock et Jade Thirlwall, et produit par le collectif The Invisible Men est un morceau électro-hop et trap dans lequel les deux chanteuses font l'apologie de la beauté féminine et son impact sur leur environnement.
Le titre a reçu un accueil mitigé de la part des critiques qui le comparent au titre de la chanteuse australienne Fancy et du titre Hollaback Girls de Gwen Stefani. D'un autre côté, les critiques complimentent Britney sur le fait qu'elle propose (enfin) quelque chose d'urban à ses fans.
Le titre a reçu un accueil mitigé, s'étant classé à la 29e place dans le Billboard Hot 100 américain et à la 25e dans les charts français.
Petite histoire du clip:
Co-réalisé par Cameron Duddy et Iggy Azalea, le clip est assez girly et est inspiré par les films Objectif Terriene avec Geena Davis et Clueless avec Alicia Silverstone. Il se déroule dans une ambiance eighties et colorée. Iggy joue le rôle d'une extraterrestre qui atterit dans la piscine de Britney. Cette dernière la prend sous son aile et l'emmène faire la fête avec ses copines. À la fin de la vidéo, les deux protagonistes sont emmenées.... ailleurs.....
Des scènes de danse viennent ponctuer ce florilège de girly attitude. Le clip dure plus longtemps que la chanson elle-même.
Petite histoire perso:
Petit bijou pétillant et girly, ce titre a le don de rester en tête. Le seul regret que l'on pourrait avoir, c'est sa durée, trop courte. Heureusement, certains fans nous ont concocté des versions longues pour allonger le plaisir. De même, le clip est assez amusant et on voit clairement que les deux chanteuses se sont vraiment amusées.
Ma collection:
J'ai à ce jour 5 références pour ce titre.
Photo
Édition
Tracklist
CD promotionnel

1. Pretty Girls

Maxi single
88751155923
1. Main Version
2. Instrumental Version
CD promotionnel

1. Pretty Girls




2. Pretty Girls [Instrumental Version]

Maxi single


88751155923

1. Main Version
2. Instrumental Version

Bonus:
Paroles de la chanson
Poster


Maxi single
9787799450551
88875-11559-2

1. Main Version
2. Instrumental Version

Bonus:
Paroles de la chanson
Ajouter un commentaire