Twister Dance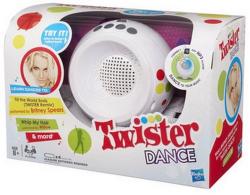 Britney Spears n'a pas chômé en 2012. Entre son travail de juge dans l'édition américaine du télé-crochet The X-Factor et son travail de mère, la chanteuse a quand même trouvé le temps de s'associer au géant du jouet Hasbro pour moderniser un classique, Twister. Cette variante permet aux joueurs de réaliser des danses en suivant un code de couleurs, semblable au jeu original. Pour l'occasion, Britney a tourné une publicité, réalisée par Ray Kay, dans laquelle la chanteuse s'éclate avec de jeunes danseuses, sur un remix inédit, Till The World Ends [Twister Remix]. Ce titre est présent dans le jeu, avec trois autres tubes. Cependant, il est possible de brancher son lecteur MP3 pour jouer sur les morceaux que l'on veut. L'ayant testé, je peux vous dire que ça vaut bien un petit cours de Zumba...
Une autre édition du jeu, appelée Twister Dance Rave a été commercialisée en novembre 2013. Elle suit le même principe que la version précédente, avec un autre design.
J'ai à ce jour 2 références pour ce produit.
Photo
Descriptif/Référence
Twister Dance
5010994640279
98830


Twister Dance Rave
5010994738266
A2975
Ajouter un commentaire