Circus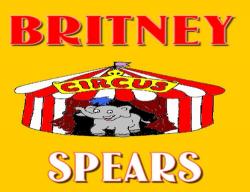 Avec le lancement du 6e album de Britney et puis, quelques mois plus tard, celui de la tournée mondiale The Circus Starring Britney Spears, plusieurs produits ont fait leur apparition.
J'ai à ce jour 25 références merchandising pour l'époque Circus.
The Circus Starring Britney Spears:
J'ai enfin pu aller voir Britney en concert lors de son passage en France, le 5 juillet 2009 à Paris-Bercy. Un moment mémorable passé en compagnie de ma meilleure amie. Malgré une chaleur étouffante, Britney en a mis plein les yeux des spectateurs et je dois dire que je ne suis pas déçu de ce premier concert: une belle réussite.
Photo
Descriptif

Programme européen de la tournée

Programme australien de la tournée
BRS-CIRCUS-PROGRAM

Lot de 3 pins

Lot de 3 magnets

Badge NTV
Badge The Circus Starring Britney Spears Rehearsals
Badge Womanizer

Plaque G.I.

Cahier de notes

T-Shirt noir

Masque bleu

Masque orange

Masque noir

Sac VIP + Billet VIP Honda Center - Anaheim

Autocollant pour vitres

Magnet rouge

Chapeau

Écusson strass

T-Shirt 'or-noir'

Lot de 3 tatouages temporaires

Gobelet rouge

Pass VIP blanc

Pass VIP noir

T-shirt blanc européen
Plans médias:
| | |
| --- | --- |
| Photo | Descriptif |
| | PLV Circus |
Ajouter un commentaire