Time Out With Britney Spears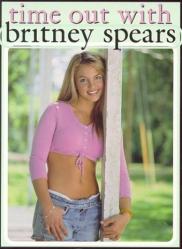 Time Out With Britney Spears est la première vidéo de Britney.
Elle est sortie en VHS (ah les bons vieux magnétoscopes) le 29 novembre 1999.
La vidéo est ensuite sortie le 13 février 2001 en DVD.
Contenu:
Growing Up: un reportage retraçant la jeunesse de Britney
Recording my first album: un making-of de l'enregistrement de l'album ...Baby One More Time
Les vidéos des chansons ...Baby One More Time, Sometimes et (You Drive Me) Crazy [The Stop Remix!], accompagnées de making-ofs.
On the road: un reportage parlant de la toute première tournée de Britney
Disney Channel In Concert: les performances des chansons Born To Make You Happy et From The Bottom Of My Broken Heart lors du concert Disney Channel enregistré en 1999
Petite histoire perso:
On m'avait prêté la VHS quand j'ai commencé à beaucoup apprécier Britney. J'ai ainsi pu me rattraper en apprenant des choses sur cette petite lolita. Les petits reportages entrecoupés d'interviews avec Britney valent le détour. Les performances sont extra... Un must-have pour les premiers fans...
Je dois dire que cela fait longtemps que je ne l'ai pas regardé. Shame On Meeeeee.....
Ma collection:
Je possède à ce jour 5 références pour cette vidéo.
Photo
Édition

VHS/Cassette audio promotionnelle
012414165138

Tracklist de la Cassette audio:

Side A
1. Britney Spears - (You Drive Me) Crazy [The Stop Remix!]
2. Don Philip - You Make Me Love You... More [Snippet]
3. Steps - Tragedy [Snippet]
4. Aaron Carter - Girl You Shine [Snippet]
5. Baby DC - Candy Girl [Featuring Imajin] [Snippet]
6. Britney Spears - ...Baby One More Time [Anwering Machine Message]
7. Britney Spears - Sometimes [Anwering Machine Message]

Side B
1. Britney Spears - (You Drive Me) Crazy [The Stop Remix!]
2. Don Philip - You Make Me Love You... More [Snippet]
3. Steps - Tragedy [Snippet]
4. Aaron Carter - Girl You Shine [Snippet]
5. Baby DC - Candy Girl [Featuring Imajin] [Snippet]
6. Britney Spears - ...Baby One More Time [Anwering Machine Message]
7. Britney Spears - Sometimes [Anwering Machine Message]

DVD
012414165190
Double VCD
828765404921

DVD
638592200685
9220068

Bonus:
Quiz permettant de débloquer une interview inédite
Des galeries photos

DVD
Réédition BMG
828765404891

Bonus:
Quiz permettant de débloquer une interview inédite
Des galeries photos
Ajouter un commentaire