Live From Las Vegas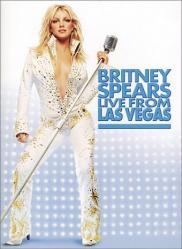 Live From Las Vegas est la 4e vidéo de Britney.
Elle est sortie en DVD le 22 janvier 2002.
Filmé et diffusé par HBO le 18 novembre 2001, ce concert fait partie du Dream Within A Dream Tour, qui n'est malheureusement pas passé par l'Europe à cause du plan vigipirate en vigueur après les événements du 11 septembre 2001.
Contenu:
Girl With A Lantern & In A Bubble (Intro)

Oops!... I Did It Again

(You Drive Me) Crazy

Interlude

Overprotected

Medley:

Born To Make You Happy

Lucky

Sometimes

Boys

Stronger

I'm Not A Girl, Not Yet A Woman

I Love Rock 'N' Roll

What It's Like To Be Me

Lonely

Band Interlude

Don't Let Me Be The Last To Know

Video Intro To Anticipating

Anticipating

I'm A Slave 4 U

...Baby One More Time
Petite histoire perso:
N'ayant pas pu aller voir Britney durant le concert qui a été donné le 14 novembre 2000 à Paris, je ne pouvais qu'être content de posséder au moins un concert de Britney. Je n'ai pas été déçu car ça bouge dans tous les sens. La scène est juste magnifique et les chorégraphies millimétrées. Britney est la performer que je connaissais dans ses clips. Bon, c'est en playback mais cela ne faisait pas scandale à cette époque-là... J'ai dû regarder ce DVD au moins une vingtaine de fois. Un indispensable pour les fans...
Ma collection:
J'ai à ce jour 5 références pour cette vidéo.
Photo

Édition

VHS
638592229853
9222985

Bonus:
Vidéos des chansons
- I'm A Slave 4 U
- Overprotected
- I'm Not A Girl, Not Yet A Woman
Bande-anonce du film Crossroads

DVD
638592229785
9222978

Bonus:
Vidéos des chansons
- I'm A Slave 4 U
- Overprotected
- I'm Not A Girl, Not Yet A Woman
Bande-anonce du film Crossroads

DVD Visual Milestones
886973556993

Bonus:
Vidéos des chansons
- I'm A Slave 4 U
- Overprotected
- I'm Not A Girl, Not Yet A Woman
Bande-anonce du film Crossroads

DVD The Platinum Collection
887654005724

Bonus:
Vidéos des chansons
- I'm A Slave 4 U
- Overprotected
- I'm Not A Girl, Not Yet A Woman
Bande-anonce du film Crossroads

DVD
9787798921151
GSM-04321

Bonus:
Poster
Ajouter un commentaire