Live And More!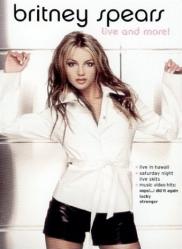 Live And More! est la deuxième vidéo de Britney.
Elle est sortie en VHS le 21 novembre 2000.
La vidéo est ensuite sortie le 13 février 2001 en DVD.
Contenu:
Live From Waikiki Beach: performances à Hawaii des titres (You Drive Me) Crazy, Sometimes, From The Bottom Of My Broken Heart, Born To Make You Happy, Oops!... I Did It Again, Don't Let Me Be The Last To Know, The Beat Goes On et ...Baby One More Time.
Britney Gets Personal: moments intimes de Britney lors de son séjour à Hawaii.
Britney on Saturday Night Live: Certains sketchs lors du passage de Britney dans l'émission en mai 2000: Woodrow the Homeless Man, Britney judges dancer tryouts, Morning Latte.
Dance Rehearsal At Waimea Falls: répétitions de la chorégraphie de Oops!... I Did It Again, avec ses danseurs.
Britney Throws A Surprise Party: Britney rend visite à une de ses plus grandes fans... Moment auquel on voudrait participer ;-)
Britney Does The Hula: moment privilégié avec ses danseurs lors d'un spectacle en plein air durant lequel Britney nous montre ses talents de danseuse...
Britney Goes To School: Britney rend visite à une école hawaiienne.
Les vidéos des chansons Oops!... I Did It Again, Lucky et Stronger.
Petite histoire perso:
J'ai beaucoup aimé (et regardé) cette VHS (oui encore des VHS...). Elle montrait une Britney alternant chant, danse et comédie... Cette vidéo avait l'intérêt de regrouper les vidéos des trois premiers singles de l'album Oops!... I Did It Again. Cette vidéo fut mon cadeau de consolation. Britney donnait un concert au Zénith de Paris quelques jours plus tôt...
Ma collection:
J'ai à ce jour 6 références pour cette vidéo.
Photo
Édition
VHS
638592206755
9220675
VHS
638592206755
9221385

DVD
638592206786
9220678

Bonus:
Les performances de Oops!... I Did It Again et Don't Let Me Be The Last To Know
lors du passage de Britney dans l'émission Saturday Night Live en 2000
Une interview lors de son showcase parisien au Théâtre de l'Empire en mai 2000
Une galerie photos
Des liens Internet

DVD
Réédition BMG
828765404297

Bonus:
Les performances de Oops!... I Did It Again et Don't Let Me Be The Last To Know
lors du passage de Britney dans l'émission Saturday Night Live en 2000
Une interview lors de son showcase parisien au Théâtre de l'Empire en mai 2000
Une galerie photos
Des liens Internet

DVD
Réédition BMG 2008
886973726129

Bonus:
Les performances de Oops!... I Did It Again et Don't Let Me Be The Last To Know
lors du passage de Britney dans l'émission Saturday Night Live en 2000
Une interview lors de son showcase parisien au Théâtre de l'Empire en mai 2000
Une galerie photos
Des liens Internet

Double VCD
638592206779
9220677
Ajouter un commentaire