Britney: The Videos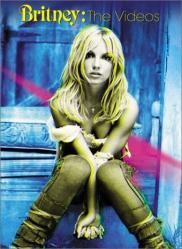 Britney: The Videos est la 3e vidéo de Britney.
Elle est sortie en DVD le 21 novembre 2001.
Contenu:
Don't Let Me Be The Last To Know: la vidéo de la chanson.
I'm A Slave 4 U From The 2001 MTV Video Music Awards: prestation mémorable avec un certain boa constrictor.
Britney's Joy Of Pepsi: première publicité de Britney après la signature de son contrat avec le célébre concurrent de Coca-Cola.
I'm A Slave 4 U: la vidéo de la chanson.
Britney 'Strikes A Pose': petit making-of du photoshoot de Herb Ritts pour le magazine Vogue, sur fond d'Anticipating.
I'm Not A Girl, Not Yet A Woman - Sidney Performance: prestation de la chanson lors de la promotion de l'album Britney en Australie.
Overprotected Featuring Outtakes From Crossroads: prestation de la chanson avec un bêtisier du film.
HBO Presents Britney Spears Live From Las Vegas: publicité de la chaine HBO pour le mythique concert donné au MGM Grand Arena par Britney lors du Dream Within A Dream Tour.
The Making Of Crossroads: reportage retraçant le tournage du film, ponctué d'interviews par l'équipe du film.
Petite histoire perso:
Lorsque j'ai eu ce DVD entre mes mains, je l'ai regardé 2-3 fois à la suite. Il est court et on a encore faim après. Mais bon, ce n'était qu'un prélude à ce qui allait nous arriver quelques semaines après avec le DVD du Live From Las Vegas. Et puis on est toujours content de revoir la prestation de Britney aux 2001 MTV Video Music Awards. Un bon petit DVD quoi...
Ma collection:
J'ai à ce jour 4 références pour cette vidéo.
Photo
Édition
DVD
638592227682
9222768
DVD
Réédition BMG
828765404693
VHS
012414178534

VCD promotionnel
8850107455218
JD14

Bonus:
Les vidéos des chansons
Overprotected
I'm Not A Girl, Not Yet A Woman
Les versions karaoké de
Don't Let Me Be The Last To Know
I'm A Slave 4 U
Ajouter un commentaire