Britney & Kevin: Chaotic ...The DVD & More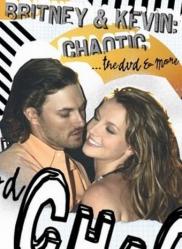 Britney & Kevin: Chaotic ... The DVD & More est la 7e vidéo de Britney.
Elle est sortie le 27 septembre 2005 en DVD.
Single extrait du DVD:
Le DVD comprend les cinq épisodes d'une série, Britney & Kevin: Chaotic, diffusée sur la chaîne américaineUPN entre mai et juin 2005. Les épisodes se composant essentiellement de vidéos réalisées par Britney et Kevin, accompagnées de quelques commentaires ajoutés, débutent au commencement de leur flirt pendant la partie européenne de la tournée de Britney, The Onyx Hotel Tour au printemps 2004 et se terminent par leur mariage, au mois de septembre de la même année. Les sujets traités vont de l'amour au sexe en passant par la "domination des femmes". Les quatre premiers épisodes durent 22 minutes chacun alors que le dernier dure 50 minutes.
Contenu:
Britney & Kevin: Chaotic:

Episode 1: Can You Handle M y Truth?
Episode 2: Who Said Anything About Love?
Episode 3: Scared To Love You
Episode 4: Magic Happens
Episode 5: Veil Of Secrecy

Someday (I Will Understand) - Making Of
Someday (I Will Understand - Clip
Do Somethin' - Clip
Scènes inédites non diffusées
Galerie photo du mariage
Tracklist du CD bonus:
Chaotic
Someday (I Will Understand)
Mona Lisa
Someday (I Will Understand) [Hi-Bias Signature Radio Remix]
Petite histoire perso:
J'adore Britney mais je dois dire que je sentais le coup fourré à plein nez avec cette relation. Même si le DVD tend à montrer un homme gentil, attentionné avec Britney, Kevin n'en restait pas moins un homme arriviste, présent pour la gloire (et la fortune) de Britney. L'avenir m'a donné raison car Britney a demandé le divorce en novembre 2006. Certaines scènes sont tout de même hilarantes et certaines scènes coupées le sont aussi. Bref un DVD de Britney, sans plus. Les morceaux du CD bonus sont quant à eux bons, plus particulièrement Mona Lisa...
Ma collection:
J'ai à ce jour 2 références pour cette vidéo.
Photo
Édition
DVD
828767358390
DVD
828767202495
Ajouter un commentaire