The Singles Collection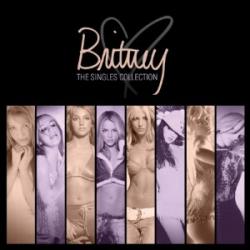 The Singles Collection est le deuxième best of de Britney.
Il est sorti le 10 novembre 2009.
Single extrait de l'album:
- 3
Ce best of a été conçu pour célébrer les dix premières années de la carrière de Britney. Il comporte ses plus gros succés et un titre inédit, 3, produit par Max Martin. Il est sorti sous trois formes: un CD standard, un CD+DVD et une box regroupant tous (ou presque tous) les singles de la chanteuse, de ...Baby One More Time à 3. La compilation a été saluée par les critiques, ces dernières soulignant sa cohérence et sa richesse. Malheureusement, les ventes n'ont pas décollé et l'album n'a pas dépassé le million d'exemplaires au niveau mondial, avec 755000 copies dont 209000 aux États-Unis.
Petite histoire perso:
Ce best of, contrairement à son prédécesseur, Greatest Hits: My Prerogative, paru en novembre 2004, est plus judcieux car il n'est pas juste un CD avec tous les singles de Britney. Il regroupe ses plus gros succés, dans l'ordre chronologique, ce qui permet à l'auditeur de se rendre compte de l'évolution musicale de la chanteuse et des styles musicaux empruntés toute au long de cette décennie. On passe d'une pop sucrée à des balades mélancoliques, tout en faisant une excursion dans le hip-hop et la dance-pop, style proéminent dans la discographie de Britney. Le DVD est aussi de qualité. On regrettera le livret qui comporte beaucoup d'erreurs, notamment sur les classements des singles.
Ma collection:
J'ai à ce jour 14 références pour cette compilation.
Photo
Édition
Tracklist
CD
886976049829
1. 3
2. ...Baby One More Time
3. (You Drive Me) Crazy [The Stop Remix!]
4. Born To Make You Happy
5. Oops!... I Did It Again
6. Stronger
7. I'm A Slave 4 U
8. I'm Not A Girl, Not Yet A Woman
9. Boys [The CO-ED Remix] [Featuring Pharrell Williams]
10. Me Against The Music [Featuring Madonna]
11. Toxic
12. Everytime
13. Gimme More
14. Piece Of Me
15. Womanizer
16. Circus
17. If U Seek Amy
18. Radar
Édition CD+DVD
886976036522

CD
1. 3
2. ...Baby One More Time
3. (You Drive Me) Crazy [The Stop Remix!]
4. Born To Make You Happy
5. Oops!... I Did It Again
6. Stronger
7. I'm A Slave 4 U
8. I'm Not A Girl, Not Yet A Woman
9. Boys [The CO-ED Remix] [Featuring Pharrell Williams]
10. Me Against The Music [Featuring Madonna]
11. Toxic
12. Everytime
13. Gimme More
14. Piece Of Me
15. Womanizer
16. Circus
17. If U Seek Amy
18. Radar

DVD
1. ...Baby One More Time
2. (You Drive Me) Crazy [The Stop Remix!]
3. Born To Make You Happy
4. Oops!... I Did It Again
5. Stronger
6. I'm A Slave 4 U
7. I'm Not A Girl, Not Yet A Woman
8. Me Against The Music [Featuring Madonna]
9. Toxic
10. Everytime
11. Gimme More
12. Piece Of Me
13. Womanizer
14. Circus
15. If U Seek Amy
16. Radar

Édition slipcase
886976082123
1. 3
2. ...Baby One More Time
3. (You Drive Me) Crazy [The Stop Remix!]
4. Born To Make You Happy
5. Oops!... I Did It Again
6. Stronger
7. I'm A Slave 4 U
8. I'm Not A Girl, Not Yet A Woman
9. Boys [The CO-ED Remix] [Featuring Pharrell Williams]
10. Me Against The Music [Featuring Madonna]
11. Toxic
12. Everytime
13. Gimme More
14. Piece Of Me
15. Womanizer
16. Circus
17. If U Seek Amy
18. Radar
Box
886975967629

CD 1: ...Baby One More Time
1. ...Baby One More Time
2. Autumn Goodbye

CD 2: Sometimes
1. Sometimes
2. I'm So Curious

CD 3: (You Drive Me) Crazy [The Stop Remix!]
1. (You Drive Me) Crazy [The Stop Remix!]
2. I'll Never Stop Loving You

CD 4: Born To Make You Happy
1. Born To Make You Happy [Radio Edit]
2. Born To Make You Happy [Bonus Remix]

CD 5: From The Bottom Of My Broken Heart
1. From The Bottom Of My Broken Heart [Radio Edit]
2. Thinkin' About You

CD 6: Oops!... I Did It Again
1. Oops!... I Did It Again
2. Deep In My Heart

CD 7: Lucky
1. Lucky
2. Heart

CD 8: Stronger
1. Stronger
2. Walk On By

CD 9: Don't Let Me Be The Last To Know
1. Don't Let Me Be The Last To Know
2. Don't Let Me Be The Last To Know [Hex Hector Radio Mix]

CD 10: I'm A Slave 4 U
1. I'm A Slave 4 U
2. Intimidated

CD 11: Overprotected
1. Overprotected
2. Overprotected [The Darkchild Remix]

CD 12: I'm Not A Girl, Not Yet A Woman
1. I'm Not A Girl, Not Yet A Woman
2. I Run Away

CD 13: I Love Rock 'N' Roll
1. I Love Rock 'N' Roll
2. I'm Not A Girl, Not Yet A Woman [Metro Remix - Radio Edit]

CD 14: Boys [The CO-ED Remix] [Featuring Pharrell Williams]
1. Boys [The CO-ED Remix] [Featuring Pharrell Williams]
2. Boys [Album Version]

CD 15: Me Against The Music Featuring Madonna
1. Me Against The Music Featuring Madonna
2. Me Against The Music Featuring Madonna [Passengerz Vs. The Club]

CD 16: Toxic
1. Toxic
2. Toxic [Bloodshy & Avant's Intoxicated Remix]

CD 17: Everytime
1. Everytime
2. Everytime [Above & Beyond's Club Mix]

CD 18: Outrageous
1. Outrageous
2. Outrageous [Junkie XL's Dancehall Mix]

CD 19: My Prerogative
1. My Prerogative
2. My Prerogative [Armand Van Helden Remix]

CD 20: Do Somethin'
1. Do Somethin'
2. Do Somethin' [Thick Vocal Mix]

CD 21: Someday (I Will Understand)
1. Someday (I Will Understand)
2. Mona Lisa

CD 22: Gimme More
1. Gimme More
2. Gimme More [Paul Oakenfold Mix]

CD 23: Piece Of Me
1. Piece Of Me
2. Piece Of Me [Bloodshy & Avant's Böz O Iö Remix]

CD 24: Break The Ice
1. Break The Ice
2. Everybody

CD 25: Womanizer
1. Womanizer
2. Womanizer [Kaskade Remix]

CD 26: Circus
1. Circus
2. Circus [Tom Neville's Ringleader Remix]

CD 27: If U Seek Amy
1. If U Seek Amy
2. If U Seek Amy [Crookers Remix]

CD 28: Radar
1. Radar
2. Radar [Bloodshy & Avant Remix]

CD 29: 3
1. 3
2. 3 [Groove Police Club Mix]

DVD
1. ...Baby One More Time
2. Sometimes
3. (You Drive Me) Crazy [The Stop Remix!]
4. Born To Make You Happy
5. From The Bottom Of My Broken Heart
6. Oops!... I Did It Again
7. Lucky
8. Stronger
9. Don't Let Me Be The Last to Know
10 I'm A Slave 4 U
11. Overprotected [The Darkchild Remix]
12. I'm Not A Girl, Not Yet A Woman
13. I Love Rock 'N' Roll
14. Me Against The Music Featuring Madonna
15. Toxic
16. Everytime
17. My Prerogative
18. Do Somethin'
19. Someday (I Will Understand)
20. Gimme More
21. Piece Of Me
22. Break The Ice
23. Womanizer
24. Circus
25. If U Seek Amy
26. Radar

CD
8869762234225
1. 3
2. ...Baby One More Time
3. (You Drive Me) Crazy [The Stop Remix!]
4. Born To Make You Happy
5. Oops!... I Did It Again
6. Stronger
7. I'm A Slave 4 U
8. I'm Not A Girl, Not Yet A Woman
9. Boys [The CO-ED Remix] [Featuring Pharrell Williams]
10. Me Against The Music [Featuring Madonna]
11. Toxic
12. Everytime
13. Gimme More
14. Piece Of Me
15. Womanizer
16. Circus
17. If U Seek Amy
18. Radar
Édition CD+DVD
886976234522

CD
1. 3
2. ...Baby One More Time
3. (You Drive Me) Crazy [The Stop Remix!]
4. Born To Make You Happy
5. Oops!... I Did It Again
6. Stronger
7. I'm A Slave 4 U
8. I'm Not A Girl, Not Yet A Woman
9. Boys [The CO-ED Remix] [Featuring Pharrell Williams]
10. Me Against The Music [Featuring Madonna]
11. Toxic
12. Everytime
13. Gimme More
14. Piece Of Me
15. Womanizer
16. Circus
17. If U Seek Amy
18. Radar

DVD
1. ...Baby One More Time
2. (You Drive Me) Crazy [The Stop Remix!]
3. Born To Make You Happy
4. Oops!... I Did It Again
5. Stronger
6. I'm A Slave 4 U
7. I'm Not A Girl, Not Yet A Woman
8. Me Against The Music [Featuring Madonna]
9. Toxic
10. Everytime
11. Gimme More
12. Piece Of Me
13. Womanizer
14. Circus
15. If U Seek Amy
16. Radar

CD
886976049829

1. 3
2. ...Baby One More Time
3. (You Drive Me) Crazy [The Stop Remix!]
4. Born To Make You Happy
5. Oops!... I Did It Again
6. Stronger
7. I'm A Slave 4 U
8. I'm Not A Girl, Not Yet A Woman
9. Boys [The CO-ED Remix] [Featuring Pharrell Williams]
10. Me Against The Music [Featuring Madonna]
11. Toxic
12. Everytime
13. Gimme More
14. Piece Of Me
15. Womanizer
16. Circus
17. If U Seek Amy
18. Radar

CD
886975850921
1. 3
2. ...Baby One More Time
3. (You Drive Me) Crazy [The Stop Remix!]
4. Born To Make You Happy
5. Oops!... I Did It Again
6. Stronger
7. I'm A Slave 4 U
8. I'm Not A Girl, Not Yet A Woman
9. Boys [The CO-ED Remix] [Featuring Pharrell Williams]
10. Me Against The Music [Featuring Madonna]
11. Toxic
12. Everytime
13. Gimme More
14. Piece Of Me
15. Womanizer
16. Circus
17. If U Seek Amy
18. Radar
CD
886975967520

1. 3
2. ...Baby One More Time
3. (You Drive Me) Crazy [The Stop Remix!]
4. Born To Make You Happy
5. Oops!... I Did It Again
6. Stronger
7. I'm A Slave 4 U
8. Boys [The CO-ED Remix] [Featuring Pharrell Williams]
9. Me Against The Music [Featuring Madonna]
10. Toxic
11. Everytime
12. Gimme More
13. Piece Of Me
14. Womanizer
15. Circus
16. If U Seek Amy
17. Radar

CD
886975967520

1. 3
2. ...Baby One More Time
3. (You Drive Me) Crazy [The Stop Remix!]
4. Born To Make You Happy
5. Oops!... I Did It Again
6. Stronger
7. I'm A Slave 4 U
8. Boys [The CO-ED Remix] [Featuring Pharrell Williams]
9. Me Against The Music [Featuring Madonna]
10. Toxic
11. Everytime
12. Gimme More
13. Piece Of Me
14. Womanizer
15. Circus
16. If U Seek Amy
17. Radar

CD
4547366051148
SICP-2459

1. 3
2. ...Baby One More Time
3. (You Drive Me) Crazy [The Stop Remix!]
4. Born To Make You Happy
5. Oops!... I Did It Again
6. Stronger
7. I'm A Slave 4 U
8. I'm Not A Girl, Not Yet A Woman
9. Boys [The CO-ED Remix] [Featuring Pharrell Williams]
10. Me Against The Music [Featuring Madonna]
11. Toxic
12. Everytime
13. Gimme More
14. Piece Of Me
15. Womanizer
16. Circus
17. If U Seek Amy
18. Radar

Bonus:
Paroles des chansons

CD
886976049829
1. 3
2. ...Baby One More Time
3. (You Drive Me) Crazy [The Stop Remix!]
4. Born To Make You Happy
5. Oops!... I Did It Again
6. Stronger
7. I'm A Slave 4 U
8. I'm Not A Girl, Not Yet A Woman
9. Boys [The CO-ED Remix] [Featuring Pharrell Williams]
10. Me Against The Music [Featuring Madonna]
11. Toxic
12. Everytime
13. Gimme More
14. Piece Of Me
15. Womanizer
16. Circus
17. If U Seek Amy
18. Radar
CD
9787884414321

1. 3
2. ...Baby One More Time
3. (You Drive Me) Crazy [The Stop Remix!]
4. Born To Make You Happy
5. Oops!... I Did It Again
6. Stronger
7. I'm A Slave 4 U
8. I'm Not A Girl, Not Yet A Woman
9. Boys [The CO-ED Remix] [Featuring Pharrell Williams]
10. Me Against The Music [Featuring Madonna]
11. Toxic
12. Everytime
13. Gimme More
14. Piece Of Me
15. Womanizer
16. Circus
17. If U Seek Amy
18. Radar

Bonus:
Paroles des chansons

Édition CD+DVD
886976036522

CD
1. 3
2. ...Baby One More Time
3. (You Drive Me) Crazy [The Stop Remix!]
4. Born To Make You Happy
5. Oops!... I Did It Again
6. Stronger
7. I'm A Slave 4 U
8. I'm Not A Girl, Not Yet A Woman
9. Boys [The CO-ED Remix] [Featuring Pharrell Williams]
10. Me Against The Music [Featuring Madonna]
11. Toxic
12. Everytime
13. Gimme More
14. Piece Of Me
15. Womanizer
16. Circus
17. If U Seek Amy
18. Radar

DVD
1. ...Baby One More Time
2. (You Drive Me) Crazy [The Stop Remix!]
3. Born To Make You Happy
4. Oops!... I Did It Again
5. Stronger
6. I'm A Slave 4 U
7. I'm Not A Girl, Not Yet A Woman
8. Me Against The Music [Featuring Madonna]
9. Toxic
10. Everytime
11. Gimme More
12. Piece Of Me
13. Womanizer
14. Circus
15. If U Seek Amy
16. Radar
Ajouter un commentaire