Oops!... I Did It Again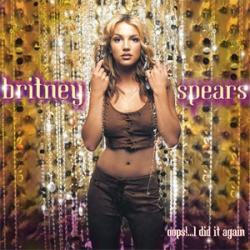 Le 2e album de Britney...
Il est sorti le 16 mai 2000 au niveau international.
Singles extraits de l'album:
- Oops!... I Did It Again
- Lucky
- Stronger
- Don't Let Me Be The Last To Know
Cet album est le petit frère de ...Baby One More Time, notamment pour les titres produits par Max Martin et ses acolytes. Britney a tout de même tenté d'évoluer musicalement en incorporant des titres plus R&B, plus funk (Don't Go Knockin' On My Door ou la reprise des Rolling Stones, (I Can't Get No) Satisfaction). Cette évolution est aussi dûe à la présence de Rodney Jerkins, producteur de Jennifer Lopez ou des Destiny's Child. Pour le côté pop-dance, merci à Max Martin. Notons la présence de Dear Diary, chanson co-écrite par Britney herself et la balade Don't Let Me Be The Last To Know, co-écrite par Shania Twain et son producteur de mari à l'époque, Robert 'Mutt' Lange.
L'album s'est écoulé à 24 millions d'exemplaires, dont 10.5 millions rien qu'aux États-Unis et 450000 en France...
Petite histoire perso:
Ma lubie Britney ne devait durer que le temps d'un album, selon mes parents. Pourtant, après avoir succombé face au premier album, je ne pouvais que suivre cette tendance avec ce second opus. J'ai accroché tout de suite sur What U See (Is What U Get) qui était alors à ce moment un concentré de ce que Britney faisait comme musique: simple mais dansant. Les titres R&B allaient en accord avec ce qui fonctionnait à cette époque, bien qu'ils furent empreints du style Britney. L'album compte aussi deux des plus belles balades de Britney, Where Are You Now, qui sonne comme un mix entre I Will Still Love You et Born To Make You Happy et Don't Let Me Be The Last To Know, qui montre la voix de Britney sous un nouveau jour. Oops!... I Did It Again est un bon album qui s'écoute facilement, qui rappelle certes le premier album mais qui évolue avec l'artiste qui propose des choix musicaux plus variés. Un peu pour dire: "Oops!... I Recorded My First Album Again, but it's funkier!!!!"
Ma collection:
J'ai à ce jour 31 références pour cet album.
Photo
Édition
Tracklist
CD
638592203921
9220392
1. Oops!... I Did It Again
2. Stronger
3. Don't Go Knockin' On My Door
4. (I Can't Get No) Satisfaction
5. Don't Let Me Be The Last To Know
6. What U See (Is What U Get)
7. Lucky
8. One Kiss From You
9. Where Are You Now
10. Can't Make You Love Me
11. When Your Eyes Say It
12. Girl In The Mirror
13. Dear Diary
CD
Édition Virgin
724384941925
8494192
1. Oops!... I Did It Again
2. Stronger
3. Don't Go Knockin' On My Door
4. (I Can't Get No) Satisfaction
5. Don't Let Me Be The Last To Know
6. What U See (Is What U Get)
7. Lucky
8. One Kiss From You
9. Where Are You Now
10. Can't Make You Love Me
11. When Your Eyes Say It
12. Girl In The Mirror
13. Dear Diary
Coffret
638592208087
9220808

Oops!... I Did It Again
1. Oops!... I Did It Again
2. Stronger
3. Don't Go Knockin' On My Door
4. (I Can't Get No) Satisfaction
5. Don't Let Me Be The Last To Know
6. What U See (Is What U Get)
7. Lucky
8. One Kiss From You
9. Where Are You Now
10. Can't Make You Love Me
11. When Your Eyes Say It
12. Girl In The Mirror
13. Dear Diary

CD ROM
1. You Got It All

Bonus:
Clip des chansons:
From The Bottom Of My Broken Heart
Oops!... I Did It Again
Lucky
Galerie photos

CD
Réédition
(format cardsleeve)
888750693129

1. Oops!... I Did It Again




2. Stronger




3. Don't Go Knockin' On My Door




4. (I Can't Get No) Satisfaction




5. Don't Let Me Be The Last To Know




6. What U See (Is What U Get)




7. Lucky




8. One Kiss From You




9. Where Are You Now




10. Can't Make You Love Me




11. When Your Eyes Say It




12. Girl In The Mirror




13. You Got It All




14. Heart




15. Dear Diary

CD
Special UK Edition
638592210424
9221042

1. Oops!... I Did It Again
2. Stronger
3. Don't Go Knockin' On My Door
4. (I Can't Get No) Satisfaction
5. Don't Let Me Be The Last To Know
6. What U See (Is What U Get)
7. Lucky
8. One Kiss From You
9. Where Are You Now
10. Can't Make You Love Me
11. When Your Eyes Say It
12. Girl In The Mirror
13. You Got It All
14. Heart
15. Dear Diary

Bonus:
Clip de la chanson Lucky

CD
638592203921
9220392

1. Oops!... I Did It Again
2. Stronger
3. Don't Go Knockin' On My Door
4. (I Can't Get No) Satisfaction
5. Don't Let Me Be The Last To Know
6. What U See (Is What U Get)
7. Lucky
8. One Kiss From You
9. Where Are You Now
10. Can't Make You Love Me
11. When Your Eyes Say It
12. Girl In The Mirror
13. Dear Diary

CD
Réédition BMG
828765363822

1. Oops!... I Did It Again
2. Stronger
3. Don't Go Knockin' On My Door
4. (I Can't Get No) Satisfaction
5. Don't Let Me Be The Last To Know
6. What U See (Is What U Get)
7. Lucky
8. One Kiss From You
9. Where Are You Now
10. Can't Make You Love Me
11. When Your Eyes Say It
12. Girl In The Mirror
13. You Got It All
14. Heart
15. Dear Diary

Cassette audio
638592203945
9220394

Side A
1. Oops!... I Did It Again
2. Stronger
3. Don't Go Knockin' On My Door
4. (I Can't Get No) Satisfaction
5. Don't Let Me Be The Last To Know
6. Lucky
7. Can't Make You Love Me

Side B
1.What U See (Is What U Get)
2. Where Are You Now
3. One Kiss From You
4. Girl In The Mirror
5. When Your Eyes Say It
6. Dear Diary

CD
Réédition BMG
828765363822

1. Oops!... I Did It Again
2. Stronger
3. Don't Go Knockin' On My Door
4. (I Can't Get No) Satisfaction
5. Don't Let Me Be The Last To Know
6. What U See (Is What U Get)
7. Lucky
8. One Kiss From You
9. Where Are You Now
10. Can't Make You Love Me
11. When Your Eyes Say It
12. Girl In The Mirror
13. You Got It All
14. Heart
15. Dear Diary

Cassette audio
638592203945
9220394

Side A
1. Oops!... I Did It Again
2. Stronger
3. Don't Go Knockin' On My Door
4. (I Can't Get No) Satisfaction
5. Don't Let Me Be The Last To Know
6. Lucky
7. Can't Make You Love Me

Side B
1.What U See (Is What U Get)
2. Where Are You Now
3. One Kiss From You
4. Girl In The Mirror
5. When Your Eyes Say It
6. Dear Diary

Cassette audio
Édition Virgin
724384941949
8494194

Side A
1. Oops!... I Did It Again
2. Stronger
3. Don't Go Knockin' On My Door
4. (I Can't Get No) Satisfaction
5. Don't Let Me Be The Last To Know
6. Lucky
7. Can't Make You Love Me

Side B
1.What U See (Is What U Get)
2. Where Are You Now
3. One Kiss From You
4. Girl In The Mirror
5. When Your Eyes Say It
6. Dear Diary

CD
638592203921
9220392

1. Oops!... I Did It Again
2. Stronger
3. Don't Go Knockin' On My Door
4. (I Can't Get No) Satisfaction
5. Don't Let Me Be The Last To Know
6. What U See (Is What U Get)
7. Lucky
8. One Kiss From You
9. Where Are You Now
10. Can't Make You Love Me
11. When Your Eyes Say It
12. Girl In The Mirror
13. Dear Diary

CD


012414170422

1. Oops!... I Did It Again
2. Stronger
3. Don't Go Knockin' On My Door
4. (I Can't Get No) Satisfaction
5. Don't Let Me Be The Last To Know
6. What U See (Is What U Get)
7. Lucky
8. One Kiss From You
9. Where Are You Now
10. Can't Make You Love Me
11. When Your Eyes Say It
12. Dear Diary


Vinyle 33 tours
Urban Fitters Exclusive
88985398991

Side A
1. Oops!... I Did It Again
2. Stronger
3. Don't Go Knockin' On My Door
4. (I Can't Get No) Satisfaction
5. Don't Let Me Be The Last To Know
6. What U See (Is What U Get)
7. Lucky

Side B
1. One Kiss From You
2. Where Are You Now
3. Can't Make You Love Me
4. When Your Eyes Say It
5. Dear Diary

CD


012414417527

1. Oops!... I Did It Again
2. Stronger
3. Don't Go Knockin' On My Door
4. (I Can't Get No) Satisfaction
5. Don't Let Me Be The Last To Know
6. What U See (Is What U Get)
7. Lucky
8. One Kiss From You
9. Where Are You Now
10. Can't Make You Love Me
11. When Your Eyes Say It
12. Dear Diary

Coffret
638592213524
ZKPD-0013 (9221352)

Oops!... I Did It Again
1. Oops!... I Did It Again
2. Stronger
3. Don't Go Knockin' On My Door
4. (I Can't Get No) Satisfaction
5. Don't Let Me Be The Last To Know
6. What U See (Is What U Get)
7. Lucky
8. One Kiss From You
9. Where Are You Now
10. Can't Make You Love Me
11. When Your Eyes Say It
12. Girl In The Mirror
13. You Got It All
14. Heart
15. Dear Diary

VCD bonus
1. Oops!... I Did It Again [Instrumental]
2. Lucky [TV Track]
3. Stronger [Singback]
4. Oops!... I Did It Again [Karaoke Version]
5. Lucky [Karaoke Version]
6. Stronger [Karaoke Version]

4892342991667
ROD 9166

1.Oops!... I Did It Again
2. Stronger
3. Don't Go Knockin' On My Door
4. (I Can't Get No) Satisfaction
5. Don't Let Me Be The Last To Know
6. What U See (Is What U Get)
7. Lucky
8. One Kiss From You
9. Where Are You Now
10. Can't Make You Love Me
11. When Your Eyes Say It
12. Girl In The Mirror
13. You Got It All
14. Dear Diary

Édition VCD
4892342591669
ROD 9166-4

Oops!... I Did It Again
1.Oops!... I Did It Again
2. Stronger
3. Don't Go Knockin' On My Door
4. (I Can't Get No) Satisfaction
5. Don't Let Me Be The Last To Know
6. What U See (Is What U Get)
7. Lucky
8. One Kiss From You
9. Where Are You Now
10. Can't Make You Love Me
11. When Your Eyes Say It
12. Girl In The Mirror
13. You Got It All
14. Heart
15. Dear Diary

VCD bonus
1. Oops!... I Did It Again [Instrumental]
2. Lucky [TV Track]
3. Stronger [Singback]

CD
9787883682554
FA-06572

1. Oops!... I Did It Again
2. Stronger
3. Don't Go Knockin' On My Door
4. (I Can't Get No) Satisfaction
5. Don't Let Me Be The Last To Know
6. What U See (Is What U Get)
7. Lucky
8. One Kiss From You
9. Where Are You Now
10. Can't Make You Love Me
11. When Your Eyes Say It
12. Girl In The Mirror
13. You Got It All
14. Heart
15. Dear Diary

CD
9787798957150
GSM-09008Y

1. Oops!... I Did It Again
2. Stronger
3. Don't Go Knockin' On My Door
4. (I Can't Get No) Satisfaction
5. Don't Let Me Be The Last To Know
6. What U See (Is What U Get)
7. Lucky
8. One Kiss From You
9. Where Are You Now
10. Can't Make You Love Me
11. When Your Eyes Say It
12. Girl In The Mirror
13. You Got It All
14. Heart
15. Dear Diary

CD
4988064951536
AVCZ-95153

1. Oops!... I Did It Again
2. Stronger
3. Don't Go Knockin' On My Door
4. (I Can't Get No) Satisfaction
5. Don't Let Me Be The Last To Know
6. What U See (Is What U Get)
7. Lucky
8. One Kiss From You
9. Where Are You Now
10. Can't Make You Love Me
11. When Your Eyes Say It
12. Girl In The Mirror
13. You Got It All
14. Heart
15. Dear Diary

Coffret
471522014632
MED-600

1. Oops!... I Did It Again
2. Stronger
3. Don't Go Knockin' On My Door
4. (I Can't Get No) Satisfaction
5. Don't Let Me Be The Last To Know
6. What U See (Is What U Get)
7. Lucky
8. One Kiss From You
9. Where Are You Now
10. Can't Make You Love Me
11. When Your Eyes Say It
12. Girl In The Mirror
13. You Got It All
14. Dear Diary

Édition Special Edition
4715122015073
MED-600-4

Oops!... I Did It Again
1. Oops!... I Did It Again
2. Stronger
3. Don't Go Knockin' On My Door
4. (I Can't Get No) Satisfaction
5. Don't Let Me Be The Last To Know
6. What U See (Is What U Get)
7. Lucky
8. One Kiss From You
9. Where Are You Now
10. Can't Make You Love Me
11. When Your Eyes Say It
12. Girl In The Mirror
13. You Got It All
14. Dear Diary

VCD bonus
1. Oops!... I Did It Again [Instrumental]
2. Lucky [TV Track]
3. Stronger [Singback]

Coffret
471522014632
MED-600

1. Oops!... I Did It Again
2. Stronger
3. Don't Go Knockin' On My Door
4. (I Can't Get No) Satisfaction
5. Don't Let Me Be The Last To Know
6. What U See (Is What U Get)
7. Lucky
8. One Kiss From You
9. Where Are You Now
10. Can't Make You Love Me
11. When Your Eyes Say It
12. Girl In The Mirror
13. You Got It All
14. Dear Diary

Bonus:
Échantillon du parfum
Givenchy - Oblique

CD
Réédiition BMG
828765363822

1. Oops!... I Did It Again
2. Stronger
3. Don't Go Knockin' On My Door
4. (I Can't Get No) Satisfaction
5. Don't Let Me Be The Last To Know
6. What U See (Is What U Get)
7. Lucky
8. One Kiss From You
9. Where Are You Now
10. Can't Make You Love Me
11. When Your Eyes Say It
12. Girl In The Mirror
13. You Got It All
14. Heart
15. Dear Diary

Coffret
Stronger Edition
638592213524
9221352

Oops!... I Did It Again
1. Oops!... I Did It Again
2. Stronger
3. Don't Go Knockin' On My Door
4. (I Can't Get No) Satisfaction
5. Don't Let Me Be The Last To Know
6. What U See (Is What U Get)
7. Lucky
8. One Kiss From You
9. Where Are You Now
10. Can't Make You Love Me
11. When Your Eyes Say It
12. Girl In The Mirror
13. You Got It All
14. Dear Diary
15. Heart

VCD bonus
1. Oops!... I Did It Again [Video]
2. Lucky [Video]
3. Stronger [Video]
4. Oops!... I Did It Again [Karaoke Version]
5. Lucky [Karaoke Version]
6. Stronger [Karaoke Version]

CD
8993122260242
Z CD 0240500

1. Oops!... I Did It Again
2. Stronger
3. Don't Go Knockin' On My Door
4. (I Can't Get No) Satisfaction
5. Don't Let Me Be The Last To Know
6. What U See (Is What U Get)
7. Lucky
8. One Kiss From You
9. Where Are You Now
10. Can't Make You Love Me
11. When Your Eyes Say It
12. Girl In The Mirror
13. You Got It All
14. Dear Diary

CD
9326382001802
9220432

1. Oops!... I Did It Again
2. Stronger
3. Don't Go Knockin' On My Door
4. (I Can't Get No) Satisfaction
5. Don't Let Me Be The Last To Know
6. What U See (Is What U Get)
7. Lucky
8. One Kiss From You
9. Where Are You Now
10. Can't Make You Love Me
11. When Your Eyes Say It
12. Girl In The Mirror
13. You Got It All
14. Heart
15. Dear Diary

Édition 2 CD
(boîtier manquant)
9326382001802
9220432

Oops!... I Did It Again
1. Oops!... I Did It Again
2. Stronger
3. Don't Go Knockin' On My Door
4. (I Can't Get No) Satisfaction
5. Don't Let Me Be The Last To Know
6. What U See (Is What U Get)
7. Lucky
8. One Kiss From You
9. Where Are You Now
10. Can't Make You Love Me
11. When Your Eyes Say It
12. Girl In The Mirror
13. You Got It All
14. Heart
15. Dear Diary

Don't Let Me Be The Last To Know
1. Don't Let Me Be The Last To Know [Album Version]
2. Don't Let Me Be The Last To Know [Hex Hector Radio Mix]
3. Don't Let Me Be The Last To Know [Hex Hector Club Mix]
4. Stronger [MacQuayle Mix Show Edit]
5. Stronger [Pablo La Rosa's Tranceformation]

Bonus:
Clip des chansons
Oops!... I Did It Again
Lucky
Stronger
Don't Let Me Be The Last To Know

CD
724384941925
8494192

1. Oops!... I Did It Again
2. Stronger
3. Don't Go Knockin' On My Door
4. (I Can't Get No) Satisfaction
5. Don't Let Me Be The Last To Know
6. What U See (Is What U Get)
7. Lucky
8. One Kiss From You
9. Where Are You Now
10. Can't Make You Love Me
11. When Your Eyes Say It
12. Girl In The Mirror
13. Dear Diary

Réédition
Los 100 Discos Que Debes Tener
Antes Del Fin Del Mundo
887254685623

1. Oops!... I Did It Again
2. Stronger
3. Don't Go Knockin' On My Door
4. (I Can't Get No) Satisfaction
5. Don't Let Me Be The Last To Know
6. What U See (Is What U Get)
7. Lucky
8. One Kiss From You
9. Where Are You Now
10. Can't Make You Love Me
11. When Your Eyes Say It
12. Girl In The Mirror
13. You Got It All
14. Heart
15. Dear Diary
Ajouter un commentaire