Oops! I Did It Again - The Very Best Of Britney Spears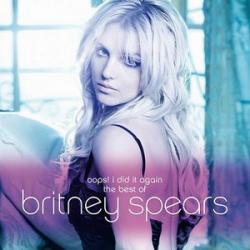 Oops I Did It Again! - The Best Of Britney Spears est le troisième best of de Britney.
Il est sorti le 19 juin 2012.
Aucun communiqué de presse n'a annoncé l'album, sa sortie prenant ainsi les fans et les critiques par surprise. Ceux-ci soulignant le choix aléatoire des titres qui exclut la plupart des succès commerciaux de Britney et inclut les chansons favorites des fans extraites des albums de la chanteuse, à l'exception de Blackout. Bien que la compilation ne contienne aucune chanson issue de l'album Femme Fatale, la pochette est une photo provenant du photoshoot promotionnel de cet album.
Oops I Did It Again! - The Best Of Britney Spears n'est paru que sous format digital dans la plupart du monde. L'album a reçu une sortie physique dans certaines parties de l'Asie ainsi qu'en Europe, comme au Royaume-Uni où il a bénéficié d'une promotion relativement importante en magasin.
Petite histoire perso:
L'intérét de ce best of? Le prix, rien d'autre. Cette compilation est attractive pour les personnes qui ont envie d'avoir un petit florilège de la discographie de Britney à moindre coût. Pour les fans collectionneurs, ce CD devient une référence en plus.
Ma collection:
J'ai à ce jour 1 référence pour cette compilation.
Photo
Édition
Tracklist
CD
887254091325
1. Oops!… I Did It Again
2. …Baby One More Time
3. I'm A Slave 4 U
4. Born To Make You Happy
5. Cinderella
6. Brave New Girl
7. The Hook Up
8. Don't Hang Up
9. One Kiss From You
10. Anticipating
11. What It's Like To Be Me
12. My Baby
13. Out From Under
14. You Got It All
15. Showdown
16. That's Where You Take Me
Ajouter un commentaire