Britney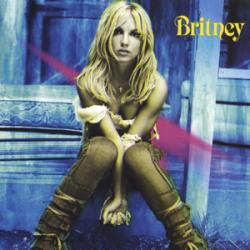 Le 3e album de Britney...
Il est sorti le 6 novembre 2001 au niveau international.
Singles extraits de l'album:
- I'm A Slave 4 U
- Overprotected
- I'm Not A Girl, Not Yet A Woman
- I Love Rock 'N Roll (dans le monde sauf aux États-Unis et en France)
- Anticipating (en France)
- Boys [CO-ED Remix Featuring Pharrell Williams From N.E.R.D.]
- That's Where You Take Me (aux Phillipines)
Après avoir enfoncé le clou avec I'm A Slave 4 U, cet album devait sonner comme l'album de la maturité. Britney a donc choisi de travailler avec The Neptunes pour le côté hip-hop, Rodney Jerkins pour les sonorités R&B/Rock, Max Martin pour la pop-dance. Britney a aussi travaillé avec le producteur BT et avec son boyfriend de l'époque, Justin Timberlake. L'enregistrement de l'album a eu lieu entre février et août 2001, après le tournage de What Friends Are For (qui deviendra par la suite Crossroads), premier film avec Britney. Britney a co-écrit cinq des titres présents sur l'album.
L'album s'est écoulé à plus de 15 millions d'exemplaires, dont près de 5 millions rien qu'aux États-Unis et 435000 en France...
Petite histoire perso:
Après I'm A Slave 4 U et son clip plus que hot, j'attendais un album purement hip-hop... Et bien non... Britney sait prendre des risques mais de là à changer complètement de style, il y a de la marge... Les titres I'm A Slave 4 U et Boys sont deux perles hip-hop. Le reste des titres alterne pop-dance, R&B, balades, disco et rock. Mes chansons préférées sont I'm A Slave 4 U, Cinderella, Before The Goodbye et I Run Away, ces deux dernières étant d'abord présentes sur le single I'm Not A Girl, Not Yet A Woman. En résumé, Britney est un bon album qui montre une réelle évolution de la part de Britney tant sur le plan de l'image que sur le plan artistique. Si on voyait en Britney l'incarnation de la femme-enfant sur ses deux premiers albums, là, le point de vue a complètement changé... Not yet a woman, j'ai du mal à y croire...
Ma collection:
J'ai à ce jour 27 références pour cet album.
Photo
Édition
Tracklist
CD
638592225220
9222522

1. I'm A Slave 4 U
2. Overprotected
3. Lonely
4. I'm Not A Girl, Not Yet A Woman
5. Boys
6. Anticipating
7. I Love Rock 'N' Roll
8. Cinderella
9. Let Me Be
10. Bombastic Love
11. That's Where You Take Me
12. When I Found You
13. What It's Like To Be Me

Bonus:
Performance de la chanson Overprotected
​avec des passages du film Crossroads
Carte de jeu-concours

CD
638592225220
9222522

1. I'm A Slave 4 U
2. Overprotected
3. Lonely
4. I'm Not A Girl, Not Yet A Woman
5. Boys
6. Anticipating
7. I Love Rock 'N' Roll
8. Cinderella
9. Let Me Be
10. Bombastic Love
11. That's Where You Take Me
12. When I Found You
13. What It's Like To Be Me

Bonus:
Performance de la chanson Overprotected
​avec des passages du film Crossroads
Carte de jeu-concours

Édition 2 CD
638592238527
9223852 PAL

Britney
1. I'm A Slave 4 U
2. Overprotected
3. Lonely
4. I'm Not A Girl, Not Yet A Woman
5. Boys
6. Anticipating
7. I Love Rock 'N' Roll
8. Cinderella
9. Let Me Be
10. Bombastic Love
11. That's Where You Take Me
12. When I Found You
13. What It's Like To Be Me
14. Overprotected [Darkchild Remix Radio Edit]
15. I'm Not A Girl, Not Yet A Woman [Metro Remix]
16. I'm A Slave 4 U [Thunderpuss Radio Mix]

Bonus:
Performance de la chanson Overprotected
​avec des passages du film Crossroads

DVD
1. Britney Talks Part 1
2. I'm A Slave 4 U
3. Britney Talks Part 2
4. Lights, Camera, Action (Overprotected)
5. Britney Talks Part 3
6. I'm Not A Girl, Not Yet A Woman
7. Britney Talks Part 4
8. Overprotected [Darkchild Remix]
9. Britney Talks Part 5
10. Making Of Pepsi World Cup Commercial
'Right Now (Taste The Victory)'
11. Britney Talks Part 6

CD
638592225220
9222522

1. I'm A Slave 4 U
2. Overprotected
3. Lonely
4. I'm Not A Girl, Not Yet A Woman
5. Boys
6. Anticipating
7. I Love Rock 'N' Roll
8. Cinderella
9. Let Me Be
10. Bombastic Love
11. That's Where You Take Me
12. When I Found You
13. What It's Like To Be Me

Bonus:
Performance de la chanson Overprotected
​avec des passages du film Crossroads
Poster

CD
Édition
Special Limited Edition CD/DVD
638592238527
9223852 PAL

Britney
1. I'm A Slave 4 U
2. Overprotected
3. Lonely
4. I'm Not A Girl, Not Yet A Woman
5. Boys
6. Anticipating
7. I Love Rock 'N' Roll
8. Cinderella
9. Let Me Be
10. Bombastic Love
11. That's Where You Take Me
12. When I Found You
13. What It's Like To Be Me
14. Overprotected [Darkchild Remix Radio Edit]
15. I'm Not A Girl, Not Yet A Woman [Metro Remix]
16. I'm A Slave 4 U [Thunderpuss Radio Mix]

Bonus:
Performance de la chanson Overprotected
​avec des passages du film Crossroads
Poster

DVD
1. Britney Talks Part 1
2. I'm A Slave 4 U
3. Britney Talks Part 2
4. Lights, Camera, Action (Overprotected)
5. Britney Talks Part 3
6. I'm Not A Girl, Not Yet A Woman
7. Britney Talks Part 4
8. Overprotected [Darkchild Remix]
9. Britney Talks Part 5
10. Making Of Pepsi World Cup Commercial
'Right Now (Taste The Victory)'
11. Britney Talks Part 6

CD
Réédition BMG
828765363723

1. I'm A Slave 4 U
2. Overprotected
3. Lonely
4. I'm Not A Girl, Not Yet A Woman
5. Boys
6. Anticipating
7. I Love Rock 'N' Roll
8. Cinderella
9. Let Me Be
10. Bombastic Love
11. That's Where You Take Me
12. When I Found You
13. I Run Away
14. What It's Like To Be Me
15. Before The Goodbye

Bonus:
Performance de la chanson Overprotected
​avec des passages du film Crossroads

Cassette audio
638592225244
9222524

Side A
1. I'm A Slave 4 U
2. Overprotected
3. Lonely
4. I'm Not A Girl, Not Yet A Woman
5. Boys
6. Anticipating
7. I Love Rock 'N' Roll

Side B
1. Cinderella
2. Let Me Be
3. Bombastic Love
4. That's Where You Take Me
5. When I Found You
6. What It's Like To Be Me

CD
638592225329
9222532

1. I'm A Slave 4 U
2. Overprotected
3. Lonely
4. I'm Not A Girl, Not Yet A Woman
5. Boys
6. Anticipating
7. I Love Rock 'N' Roll
8. Cinderella
9. Let Me Be
10. Bombastic Love
11. That's Where You Take Me
12. When I Found You
13. Before The Goodbye
14. What It's Like To Be Me

Bonus:
Performance de la chanson Overprotected
​avec des passages du film Crossroads

CD promotionnel
RTD199.3260.2
CD comprenant des extraits de:
1. I'm A Slave 4 U
2. Overprotected
3. Lonely
4. I'm Not A Girl, Not Yet A Woman
5. Boys
6. Anticipating
7. I Love Rock 'N' Roll
8. Cinderella
9. Let Me Be
10. Bombastic Love
11. That's Where You Take Me
12. What It's Like To Be Me
CD
638592225220
9222522

1. I'm A Slave 4 U
2. Overprotected
3. Lonely
4. I'm Not A Girl, Not Yet A Woman
5. Boys
6. Anticipating
7. I Love Rock 'N' Roll
8. Cinderella
9. Let Me Be
10. Bombastic Love
11. That's Where You Take Me
12. When I Found You
13. What It's Like To Be Me

Bonus:
Performance de la chanson Overprotected
​avec des passages du film Crossroads
Poster

CD
63859222548
922254-2

1. I'm A Slave 4 U
2. Overprotected
3. Lonely
4. I'm Not A Girl, Not Yet A Woman
5. Boys
6. Anticipating
7. I Love Rock 'N' Roll
8. Cinderella
9. Let Me Be
10. Bombastic Love
11. That's Where You Take Me
12. When I Found You
13. I Run Away
14. What It's Like To Be Me

Bonus:
Performance de la chanson Overprotected
​avec des passages du film Crossroads
Poster

CD
012414177629

1. I'm A Slave 4 U
2. Overprotected
3. Lonely
4. I'm Not A Girl, Not Yet A Woman
5. Boys
6. Anticipating
7. I Love Rock 'N' Roll
8. Cinderella
9. Let Me Be
10. Bombastic Love
11. That's Where You Take Me
12. What It's Like To Be Me

CD
012414421821

1. I'm A Slave 4 U
2. Overprotected
3. Lonely
4. I'm Not A Girl, Not Yet A Woman
5. Boys
6. Anticipating
7. I Love Rock 'N' Roll
8. Cinderella
9. Let Me Be
10. Bombastic Love
11. That's Where You Take Me
12. What It's Like To Be Me

Bonus:
Performance de la chanson Overprotected
​avec des passages du film Crossroads

CD
9787883682547
FA-06564
1. I'm A Slave 4 U
2. Overprotected
3. Lonely
4. I'm Not A Girl, Not Yet A Woman
5. Anticipating
6. I Love Rock 'N' Roll
7. Cinderella
8. Let Me Be
9. Bombastic Love
10. That's Where You Take Me
11. When I Found You
12. I Run Away
13. What It's Like To Be Me
14. Before The Goodbye
CD
9787798957099
GSM-9006Y
1. I'm A Slave 4 U
2. Overprotected
3. Lonely
4. I'm Not A Girl, Not Yet A Woman
5. Anticipating
6. I Love Rock 'N' Roll
7. Cinderella
8. Let Me Be
9. Bombastic Love
10. That's Where You Take Me
11. When I Found You
12. I Run Away
13. What It's Like To Be Me
14. Before The Goodbye
Cassette audio
9787880622164
ZXC-0056

Side A
1. I'm A Slave 4 U
2. Overprotected
3. Lonely
4. I'm Not A Girl, Not Yet A Woman
5. Anticipating
6. I Love Rock 'N' Roll
7. Cinderella

Side B
1. Let Me Be
2. Bombastic Love
3. That's Where You Take Me
4. When I Found You
5. I Run Away [Bonus Track]
6. What It's Like To Be Me

CD
4544180100472
ZJCI-10047

1. I'm A Slave 4 U
2. Overprotected
3. Lonely
4. I'm Not A Girl, Not Yet A Woman
5. Boys
6. Anticipating
7. I Love Rock 'N' Roll
8. Cinderella
9. Let Me Be
10. Bombastic Love
11. That's Where You Take Me
12. When I Found You
13. Before The Goodbye
14. What It's Like To Be Me

Bonus:
Poster
Paroles des chansons
Carte pochette brillante

Coffret
Special Limited Edition CD/DVD
4544180100656
ZJCI-10065/B

Britney
1. I'm A Slave 4 U
2. Overprotected
3. Lonely
4. I'm Not A Girl, Not Yet A Woman
5. Boys
6. Anticipating
7. I Love Rock 'N' Roll
8. Cinderella
9. Let Me Be
10. Bombastic Love
11. That's Where You Take Me
12. When I Found You
13. Before The Goodbye
14. What It's Like To Be Me
15. Overprotected [Darkchild Remix Radio Edit]
16. I'm Not A Girl, Not Yet A Woman [Metro Remix]
17. I'm A Slave 4 U [Thunderpuss Radio Mix]

DVD
1. Britney Talks Part 1
2. I'm A Slave 4 U
3. Britney Talks Part 2
4. Lights, Camera, Action (Overprotected)
5. Britney Talks Part 3
6. I'm Not A Girl, Not Yet A Woman
7. Britney Talks Part 4
8. Overprotected [Darkchild Remix]
9. Britney Talks Part 5
10. Making Of Pepsi World Cup Commercial
'Right Now (Taste The Victory)'
11. Britney Talks Part 6

Bonus:
Poster
Paroles des chansons

CD
9326382003967
9222532

1. I'm A Slave 4 U
2. Overprotected
3. Lonely
4. I'm Not A Girl, Not Yet A Woman
5. Boys
6. Anticipating
7. I Love Rock 'N' Roll
8. Cinderella
9. Let Me Be
10. Bombastic Love
11. That's Where You Take Me
12. When I Found You
13. Before The Goodbye
14. What It's Like To Be Me

Bonus:
Performance de la chanson Overprotected
​avec des passages du film Crossroads
Poster

Édition
Special Limited Edition CD/DVD
9326382004919
9223872PAL

Britney
1. I'm A Slave 4 U
2. Overprotected
3. Lonely
4. I'm Not A Girl, Not Yet A Woman
5. Boys
6. Anticipating
7. I Love Rock 'N' Roll
8. Cinderella
9. Let Me Be
10. Bombastic Love
11. That's Where You Take Me
12. When I Found You
13. Before The Goodbye
14. What It's Like To Be Me
15. Overprotected [Darkchild Remix Radio Edit]
16. I'm Not A Girl, Not Yet A Woman [Metro Remix]
17. I'm A Slave 4 U [Thunderpuss Radio Mix]

Bonus:
Performance de la chanson Overprotected
​avec des passages du film Crossroads
Poster

DVD
1. Britney Talks Part 1
2. I'm A Slave 4 U
3. Britney Talks Part 2
4. Lights, Camera, Action (Overprotected)
5. Britney Talks Part 3
6. I'm Not A Girl, Not Yet A Woman
7. Britney Talks Part 4
8. Overprotected [Darkchild Remix]
9. Britney Talks Part 5
10. Making Of Pepsi World Cup Commercial
'Right Now (Taste The Victory)'
11. Britney Talks Part 6

Édition
2 CD Special Limited Edition
638592239821
ZKPD-0054 (9223982 NTSC)

Britney
1. I'm A Slave 4 U
2. Overprotected
3. Lonely
4. I'm Not A Girl, Not Yet A Woman
5. Boys
6. Anticipating
7. I Love Rock 'N' Roll
8. Cinderella
9. Let Me Be
10. Bombastic Love
11. That's Where You Take Me
12. When I Found You
13. Before The Goodbye
14. What It's Like To Be Me
15. Overprotected [Darkchild Remix Radio Edit]
16. I'm Not A Girl, Not Yet A Woman [Metro Remix]
17. I'm A Slave 4 U [Thunderpuss Radio Mix]

Bonus:
Performance de la chanson Overprotected
​avec des passages du film Crossroads
Paroles des chansons

DVD
1. Britney Talks Part 1
2. I'm A Slave 4 U
3. Britney Talks Part 2
4. Lights, Camera, Action (Overprotected)
5. Britney Talks Part 3
6. I'm Not A Girl, Not Yet A Woman
7. Britney Talks Part 4
8. Overprotected [Darkchild Remix]
9. Britney Talks Part 5
10. Making Of Pepsi World Cup Commercial
'Right Now (Taste The Victory)'
11. Britney Talks Part 6

Édition promotionnelle
638592225428
ZKPD-0037 (9222542)

1. I'm A Slave 4 U
2. Overprotected
3. Lonely
4. I'm Not A Girl, Not Yet A Woman
5. Boys
6. Anticipating
7. I Love Rock 'N' Roll
8. Cinderella
9. Let Me Be
10. Bombastic Love
11. That's Where You Take Me
12. When I Found You
13. I Run Away
14. What It's Like To Be Me

Bonus:
Performance de la chanson Overprotected
​avec des passages du film Crossroads
Calendrier de l'année 2002

Édition promotionnelle
638592225428
ZKPD-0037 (9222542)

Britney
1. I'm A Slave 4 U
2. Overprotected
3. Lonely
4. I'm Not A Girl, Not Yet A Woman
5. Boys
6. Anticipating
7. I Love Rock 'N' Roll
8. Cinderella
9. Let Me Be
10. Bombastic Love
11. That's Where You Take Me
12. When I Found You
13. Before The Goodbye
14. What It's Like To Be Me

Bonus:
Performance de la chanson Overprotected
avec des passages du film Crossroads
Poster

I'm Not A Girl, Not Yet A Woman
1. I'm Not A Girl, Not Yet A Woman [Album Version]
2. I'm Not A GIrl, Not Yet A Woman
[Spanish Fly Remix Radio Edit]
3. I'm Not A Girl, Not Yet A Woman
[Chocolate Puma Dub]
4. I Run Away [Album Version]

Bonus:
Clip de la chanson Overprotected
Bande-annonce du film Crossroads

Coffret
4710149633453
MED-326

1. I'm A Slave 4 U
2. Overprotected
3. Lonely
4. I'm Not A Girl, Not Yet A Woman
5. Boys
6. Anticipating
7. I Love Rock 'N' Roll
8. Cinderella
9. Let Me Be
10. Bombastic Love
11. That's Where You Take Me
12. When I Found You
13. I Run Away
14. What It's Like To Be Me

Bonus:
Performance de la chanson Overprotected
avec des passages du film Crossroads
Bracelet

Coffret The Bonus Edition
638592316822
9221682

Britney
1. I'm A Slave 4 U
2. Overprotected
3. Lonely
4. I'm Not A Girl, Not Yet A Woman
5. Boys
6. Anticipating
7. I Love Rock 'N' Roll
8. Cinderella
9. Let Me Be
10. Bombastic Love
11. That's Where You Take Me
12. When I Found You
13. Before The Goodbye
14. What It's Like To Be Me

Bonus:
Poster
Performance de la chanson Overprotected
​avec des passages du film Crossroads

The Bonus Single
1. I'm Not A Girl, Not Yet A Woman [Album Version]
2. I'm Not A GIrl, Not Yet A WOman
[Spanish Fly Remix Radio Edit]
3. I'm Not A Girl, Not Yet A Woman
[Chocolate Puma Dub]
4. I Run Away [Album Version]

Bonus:
Clip de la chanson Overprotected
Bande-annonce du film Crossroads

CD
638592225220

1. I'm A Slave 4 U
2. Overprotected
3. Lonely
4. I'm Not A Girl, Not Yet A Woman
5. Boys
6. Anticipating
7. I Love Rock 'N' Roll
8. Cinderella
9. Let Me Be
10. Bombastic Love
11. That's Where You Take Me
12. When I Found You
13. What It's Like To Be Me

Bonus:
Performance de la chanson Overprotected
​avec des passages du film Crossroads

Coffret
Special Limited Edition
638592240520

Britney
1. I'm A Slave 4 U
2. Overprotected
3. Lonely
4. I'm Not A Girl, Not Yet A Woman
5. Boys
6. Anticipating
7. I Love Rock 'N' Roll
8. Cinderella
9. Let Me Be
10. Bombastic Love
11. That's Where You Take Me
12. When I Found You
13. What It's Like To Be Me

Bonus:
Performance de la chanson Overprotected
​avec des passages du film Crossroads
Poster

DVD
1. Britney Talks Part 1
2. I'm A Slave 4 U
3. Britney Talks Part 2
4. Lights, Camera, Action (Overprotected)
5. Britney Talks Part 3
6. I'm Not A Girl, Not Yet A Woman
7. Britney Talks Part 4
8. Overprotected [Darkchild Remix]
9. Britney Talks Part 5
10. Making Of Pepsi World Cup Commercial
'Right Now (Taste The Victory)'
11. Britney Talks Part 6
Ajouter un commentaire