B In The Mix, The Remixes Vol. 2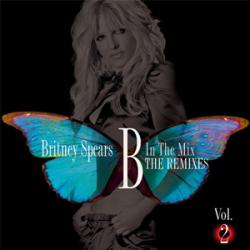 B In The Mix, The Remixes Vol. 2 est le 2e album de remixes de Britney.
Il est sorti le 7 octobre 2011.
Après plusieurs annonces contradictoires, c'est Britney elle-même qui annonce la date de sortie de l'album au mois de septembre 2011, tout en dévoilant la pochette et la tracklist de cette compilation de remixes. Les morceaux de cet opus ont été revus par Kaskade, Tiësto, Benny Bennassi ou encore Alex Suarez, entre autres. Les versions originales des titres présents sur l'album sont issus de Blackout, Circus, Femme Fatale et du best of The Singles Collection. Aucun titre inédit n'est présent sur cette compilation. L'album reçoit des critiques plutôt mitigées, certains spécialistes notant que sur la plupart des remixes, «une grande partie de la magie est perdue» quand on les compare aux productions originales en citant notamment If U Seek Amy et Till The World Ends. Niveaux vente, c'est l'hécatombe. L'album se vend à 60000 exemplaires à travers le monde, dont 21000 aux États-Unis.
Petite histoire perso:
Même si je trouve que cette compilation est mieux construite que sa prédécesseure de 2005, il manque toujours ce côté "nouveauté" dans le choix des morceaux, plus ou moins déjà connus. La non-présence d'un quelconque titre inédit est aussi à noter et est préjudiciable. Quelques remixes sont quand même assez bons, comme celui de Tiësto pour Piece Of Me ou celui de Benny Bennassi pour Womanizer.
Ma collection:
J'ai à ce jour 10 références pour cet album de remixes.
Photo
Édition
Tracklist
CD
886979736221
1. Criminal [Radio Mix]
2. Gimme More [Kaskade Club Mix]
3. Piece Of Me [Tiësto Club Mix]
4. Radar [Tonal Club Remix]
5. Womanizer [Benny Benassi Extended]
6. Circus [Linus Loves Remix]
7. If U Seek Amy [U-Tern Remix]
8. 3 [Manhattan Clique Club Remix]
9. Till The World Ends [Alex Suarez Club Remix]
10. I Wanna Go [Gareth Emery Remix]
CD
886979736221
1. Criminal [Radio Mix]
2. Gimme More [Kaskade Club Mix]
3. Piece Of Me [Tiësto Club Mix]
4. Radar [Tonal Club Remix]
5. Womanizer [Benny Benassi Extended]
6. Circus [Linus Loves Remix]
7. If U Seek Amy [U-Tern Remix]
8. 3 [Manhattan Clique Club Remix]
9. Till The World Ends [Alex Suarez Club Remix]
10. I Wanna Go [Gareth Emery Remix]
CD
886979856325
1. Criminal [Radio Mix]
2. Gimme More [Kaskade Club Mix]
3. Piece Of Me [Tiësto Club Mix]
4. Radar [Tonal Club Remix]
5. Womanizer [Benny Benassi Extended Remix]
6. Circus [Linus Loves Remix]
7. If U Seek Amy [U-Tern Remix]
8. 3 [Manhattan Clique Club Remix]
9. Till The World Ends [Alex Suarez Club Remix]
10. I Wanna Go [Gareth Emery Remix]
CD
886979736221
1. Criminal [Radio Mix]
2. Gimme More [Kaskade Club Mix]
3. Piece Of Me [Tiësto Club Mix]
4. Radar [Tonal Club Remix]
5. Womanizer [Benny Benassi Extended Remix]
6. Circus [Linus Loves Remix]
7. If U Seek Amy [U-Tern Remix]
8. 3 [Manhattan Clique Club Remix]
9. Till The World Ends [Alex Suarez Club Remix]
10. I Wanna Go [Gareth Emery Remix]
CD
8803581118629
S10862C

1. Criminal [Radio Mix]
2. Gimme More [Kaskade Club Mix]
3. Piece Of Me [Tiësto Club Mix]
4. Radar [Tonal Club Remix]
5. Womanizer [Benny Benassi Extended Remix]
6. Circus [Linus Loves Remix]
7. If U Seek Amy [U-Tern Remix]
8. 3 [Manhattan Clique Club Remix]
9. Till The World Ends [Alex Suarez Club Remix]
10. I Wanna Go [Gareth Emery Remix]

Bonus:
Livret d'informations sur les chansons

CD
4547366062052
SICP-3317

1. Gimme More [Kaskade Club Mix]
2. Piece Of Me [Tiësto Club Mix]
3. Radar [Tonal Club Remix]
4. Womanizer [Benny Benassi Extended Remix]
5. Circus [Linus Loves Remix]
6. If U Seek Amy [U-Tern Remix]
7. 3 [Manhattan Clique Club Remix]
8. Till The World Ends [Alex Suarez Club Remix]
9. I Wanna Go [Gareth Emery Remix]
10. Criminal [Varsity Team Remix]
11. Break The Ice [Tonal Remix]
12. Hold It Against Me [Funk Generation Club Remix]
13. My Prerogative [X-Press 2 Radio Edit]
14. Criminal [Tom Piper & Riddler Remix - Radio Edit]

Bonus:
Paroles des chansons
Carte-calendrier 2012

CD
886979736221
1. Criminal [Radio Mix]
2. Gimme More [Kaskade Club Mix]
3. Piece Of Me [Tiësto Club Mix]
4. Radar [Tonal Club Remix]
5. Womanizer [Benny Benassi Extended Remix]
6. Circus [Linus Loves Remix]
7. If U Seek Amy [U-Tern Remix]
8. 3 [Manhattan Clique Club Remix]
9. Till The World Ends [Alex Suarez Club Remix]
10. I Wanna Go [Gareth Emery Remix]
CD
Édition sans le logo FBI
886979736221
1. Criminal [Radio Mix]
2. Gimme More [Kaskade Club Mix]
3. Piece Of Me [Tiësto Club Mix]
4. Radar [Tonal Club Remix]
5. Womanizer [Benny Benassi Extended Remix]
6. Circus [Linus Loves Remix]
7. If U Seek Amy [U-Tern Remix]
8. 3 [Manhattan Clique Club Remix]
9. Till The World Ends [Alex Suarez Club Remix]
10. I Wanna Go [Gareth Emery Remix]
CD
886979736221
1. Criminal [Radio Mix]
2. Gimme More [Kaskade Club Mix]
3. Piece Of Me [Tiësto Club Mix]
4. Radar [Tonal Club Remix]
5. Womanizer [Benny Benassi Extended Remix]
6. Circus [Linus Loves Remix]
7. If U Seek Amy [U-Tern Remix]
8. 3 [Manhattan Clique Club Remix]
9. Till The World Ends [Alex Suarez Club Remix]
10. I Wanna Go [Gareth Emery Remix]
CD
886979736221
1. Criminal [Radio Mix]
2. Gimme More [Kaskade Club Mix]
3. Piece Of Me [Tiësto Club Mix]
4. Radar [Tonal Club Remix]
5. Womanizer [Benny Benassi Extended Remix]
6. Circus [Linus Loves Remix]
7. If U Seek Amy [U-Tern Remix]
8. 3 [Manhattan Clique Club Remix]
9. Till The World Ends [Alex Suarez Club Remix]
10. I Wanna Go [Gareth Emery Remix]
Ajouter un commentaire